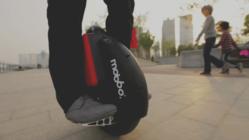 Mobbo Electric Unicycle the answer to your transportation needs.
New York City, NY (PRWEB) June 26, 2013
Commuting to work? A nightmare of trains, buses, and cars. A world of congestion and traffic. Life just got much easier with the Mobbo Electric Unicycle.
On average people spend one hour a day commuting to the office. Each year the cost of this journey increases. In many cities the cost is significant. Researchers have amassed evidence that long commutes are associated with increased divorce rates, neck and back pain, sleeping disorders and sheer unhappiness, according to the Washington Post article 'Commuting in the U.S. is hellish 2013' published March 5, 2013.
The crazy thing is 50% of all journeys are less than 5 miles. Getting into the office should be a simple affair. The endless stress of where to park the car, how to find a taxi or how to lock the bike is over. Mobbo is the answer to all of these worries. Light, portable, electric & revolutionary.
Mobbo Electric Unicycle
The Mobbo is an electric self-balancing unicycle. It has gyro sensors and a balancing computerized system like a segway. The 5 mile commute to work will take less than 20 mins. No stopping and starting. Experience real freedom. Check out how much simpler things could be. Light enough to carry and powerful enough to take you anywhere.
Mobbo is also about well-being.
Life is all about balance. The freedom of not relying on traditional transportation will be a welcome relief to all commuters. Riding the Mobbo with the self-balancing system engages the users core muscles and increases stability and strength over time.
Mobbo is super green
This quiet electric unicycle is an eco warrior. Mobbo technologies is a leading player in electric powered devices paving the way for total energy independence. The device is equipped with regenerative braking systems which allows the Mobbo to restore energy when going downhill or breaking.
Mobbo is mobile
Weighing just 12KG, the Mobbo will transform daily commutes and give unparalleled independence.
About Mobbo
Mobbo.® is a leading innovator in electric powered devices the gyro stabilized self balancing unicycle is the first direct consumer product.