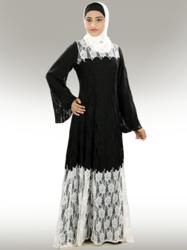 Any size, any length; we customize for you.
(PRWEB) June 24, 2013
At MyBatua.com, one will get several options of Abayas. If hooded and jersey-styled abayas work well for casual occasions, then kaftan-styled abayas look great in formal occasions and parties. Paired with matching accessories such as gloves, footwear, hijabs, designer brooches, bags, etc. This clothing style looks divine, bestowing the wearer with elegance. With the availability of online personal customization of all garments, forget size issues for once and for all. The prints and embroidery on the abayas are never overdone, and a good combination of these with sober colors looks excellent any day. Abayas in different fabrics work well in different seasons. Wedding abayas and Abaya Wholesale are also available. These are crafted with utmost care and with innovative designs.
The Director of MyBatua.com said, "We have many modest abayas on sale. All available in numerous colors and designs. You can have a look at the complete collection, which is updated every few weeks, all within a few minutes. It will now be easier to find abayas for all occasions, and none of your dresses will be out of fashion. Ordering abayas is even easier with the interactive interface and dedicated customer support we have at MyBatua.com. Special seasons call for special discounts and offers on all the modest Islamic clothing on sale. Now just sit back at home and order your favorite Islamic dresses priced at pocket-friendly rates in the most hassle-free manner from the most friendly Abaya Shop online."
He added, "We are delighted to announce the launch of our new collection on Eid, one of the biggest Islamic festivals. The website has been designed to improve the opportunity for the consumers to shop online for Islamic clothes in a more time efficient and enjoyable way. Many of our customers request maxi dresses and plus size dresses, so we were happy to listen and stock more of these this season. Be it any size, any length, we customize for you."
Being an advanced e-commerce shopping portal, MyBatua.com is built exclusively for the consumers. This online shopping platform allows customers to get Islamic clothing and accessories. This successful project has been developed in response to an increasing demand of shopping online for convenience and better deals for customers seeking quality Islamic clothing and accessories.
About MyBatua.com
MyBatua.com is a primary international online store and boutique for Muslim fashions and fashion accessories including abaya, jilbabs, hijabs, tunics, tops, scarves, footwear, handbags, vintage bags, embroidered bags, metal framed bags, clutch bags, designer handbags and more at very affordable prices. Over the years, MyBatua has attracted a loyal customer base of people searching for Islamic clothing collections that can be hard to find in mainstream clothing stores. To buy Abaya, Jilbab, Muslim wedding dresses, Islamic wedding dresses online, and to avail regular discounts and offers, visit their website at http://www.mybatua.com.