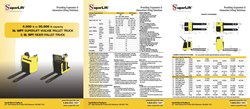 We have the largest offering of custom painted and stainless steel pallet trucks in the industry.
Kitchener, Ontario (PRWEB) June 24, 2013
Heavy Duty, Large Capacities from a low of 10,000 lbs to 30,000 lbs, Superlift is truly offering a super heavy duty pallet truck lift.
Superlift Material Handling a manufacturer of custom lift equipment has expanded its pallet truck product truck line and now will accept orders to 30,000 lb capacity. The pallet truck product is available in walk behind, rider and stand up versions. Standard fork lowered height of 3.25 inches is retained in capacities to 20,000 lbs enabling customers to use standard skids for very heavy loads. Fork heights in the 20,000 lb to 30,000 lb range increase only slightly to 4 and 5 inch heights making it easier for customers to use a standard pallet to move heavy loads.
Quality off the shelf components and heavy duty transmissions make the Superlift pallet truck line a true work horse for moving heavy loads. Standard load wheels and drive wheels also ensure low cost maintenance over the life of the product. The pallet truck product line is also available in an EE and EX, explosion proof version.
Superlift also offers pallet trucks in stainless steel in capacities from 3000 lbs to 10,000 lbs for the food and pharmaceutical industries and is a leader in stainless steel lift equipment around the world.
Superlift is looking for representatives, new distributors and dealers and new customers for its line of pallet trucks and custom lift trucks. Please call today for your catalogue of the expanded line of lift products manufactured by Superlift Material Handling Inc.