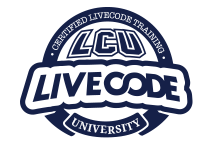 LiveCode University will help to create a new generation of technically literate computer users and programmers.
Edinburgh, Scotland (PRWEB UK) 25 June 2013
Recognizing that existing coding courses are too difficult for many, RunRev and Brigham Young University today announced a new partnership and the launch of LiveCode University. Billed as the easiest way in the world to learn programming, LiveCode University is based on a course that has been taught to "non-techie" humanities students at Brigham Young University for several years.
Computer science is the only STEM (science, technology, engineering and mathematics) field that has seen a decrease in student participation over the last 20 years, from 25% of high school students to only 19%, according to a study by the National Center for Education Statistics. Introductory CS courses in the USA have decreased by 17% since 2005. In the UK, A level courses have declined from 6,500 in 2005 to less than 2,000 this year.
In contrast, the market for computer science related jobs has never been stronger. The Bureau of Labor Statistics projects that by the year 2020, there will be 4.2 million jobs in computing and information technology in the U.S., putting these fields among the very top growth occupational fields. In the UK a computer science student has the potential to earn an average of £250,000 more in a lifetime than graduates in other fields. In February this year Barack Obama acknowledged the need for better support and teaching of computer sciences, and said, "I'm announcing a new challenge to redesign America's high schools so they better equip graduates for the demands of a high-tech economy".
LiveCode University:

Is based on a course taught to "non-techies" by a world class university
Uses the only language shown to double update for advanced CS classes in classrooms in the USA and UK
Past LiveCode learners have gone on to create multi-million dollar businesses
Teaches how to build apps for Android & iOS devices and Windows, Mac & Linux desktops
Teaches logical computational thinking
Teachers transferable skills
Is a comprehensive course with 35 modules
Includes a certificate of completion
Kevin Miller, RunRev CEO said, "It seems unbelievable that computer science is the only STEM subject where uptake has declined since 2005. It is one of the brightest spots in an otherwise challenging economy. Programmers are virtually guaranteed a job and yet we don't train enough of them. LiveCode University will help to create a new generation of technically literate computer users and programmers."
Devin Asay, Senior Research Fellow at Brigham Young University said, "Coding is the new literacy. Learning to code should be as important today as learning to read and write. We have taught programming as an important cognitive skill for several years. We have been able to equip students with technical skills that are applicable to virtually any career today. Others have gone on to successful careers as programmers. We're very excited to be partnering with RunRev today to bring this course to a wider audience and do our part in addressing this gap in applied computing education."
RunRev's recent Kickstarter campaign dramatically illustrated public support for better, easier coding tools and the importance of computing in daily life. The message that "everyone can code" resonated to the tune of $750,000, as 3342 people supported the campaign. The amount raised by this campaign put it in the top 10 technology crowd funding campaigns of all time.
LiveCode University is the next logical step in RunRev's mission of bringing coding to the rest of us, offering easy to understand training on an easy to understand yet powerful open source language, LiveCode.
Learn more at http://university.livecode.com/.
About RunRev Ltd.
RunRev makes the LiveCode cross-platform programming environment for building sophisticated mobile, desktop and server applications. The company aims to open doors with technology by empowering people to create apps through an intuitive and easy-to-learn language. The LiveCode language is based on English and the focus on instant results appeals to a wide range of users, from individuals and educators to corporate and enterprise developers. Considered a modern descendent of HyperCard, LiveCode offers a robust yet flexible path to cross-platform app creation. For more information, please visit http://www.runrev.com.