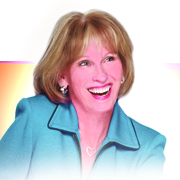 "Connie can "own a stage" like no other leadership speaker I have ever seen in my 30 years in the business."- Naomi Chavez Peters, Salesforce.com.
Dallas, TX (PRWEB) June 24, 2013
As a groundbreaking leader in the sales and cloud computing industry, Salesforce is known for their outside-the-box thinking and milestone-making momentum. As a business motivational speaker, known for her own innovative strategies, results-producing solutions and humor-filled, right-on-target deliver style – Connie Podesta was a perfect fit to speak to this power-packed, top talent group at their recent leadership and team event. Connie is passionate about helping professionals succeed at their highest capacity, push new boundaries in their fields, and speed past their competition--all while having a lot more fun.
"As a motivational speaker and expert in Leadership Development, Connie speaks candidly and frankly to her audiences, but with great humor, which increases the stickiness of her messages. My folks were quoting Connie months after her session! Her delivery style is innovative and out-of-the-box (no slides!), and can relate to anyone regardless of industry or level. I hired Connie as a closer for a program I built at Cisco Systems in 2009, and her speaker score was a perfect score, for 150 people! All ages, 'shapes' and styles can relate to Connie's messages of sales and management effectiveness, and just overall personal effectiveness. I cannot recommend Connie Podesta enough for her innovation and impact to her audiences. Connie can 'own a stage' like no other leadership speaker I have ever seen in my 30 years in the business."- Naomi Chavez Peters, Salesforce.com.
What Motivational Speaker Connie Podesta knows is that when people laugh more, they learn more. And when they are given, not just ideas, but real-world tools, techniques and mindsets that allow them to break through old habits, expand thinking and the ability to get right into the minds of the prospects and customers they most want to reach – then they will have exactly what they need to realize a more productive and profitable future. And that's exactly what she brought to the stage for Salesforce, and every organization she speaks to.
To compete at a higher level in today's world sales teams need to:

Have 'hands-down' insights and skills for communicating to ANY personality type
Have the ability to permanently set aside status quo and reach beyond old boundaries
Embrace innovation and diversity in ways that blow the lid off the competition
Have the ability to self-start, self-motivate and build momentum
Connie Podesta is not your typical motivational speaker. As a human relations expert with an emphasis on sales and leadership – Connie motivates audiences much differently by fueling them with exciting new ideas, mindsets, attitudes, humor and solutions that will empower them to tackle even the toughest challenges in today's crazy, 24/7 world. She understands that competing in our ever-shifting economy is not for sissies. Business professionals face tough competition, demanding customers, savvy consumers and tremendous change. Connie's standout strategies help professionals take those hurdles in stride as well as help them find more of the balance and peace of mind they strive for.
For more information on Podesta's schedule and availability or to learn more about her captivating right-on-target presentations, contact her team today at 972-596-5501 or you can visit her website online at http://www.conniepodesta.com.
Connie Podesta is an international Hall of Fame Business Motivational Speaker who focuses on sales strategies and leadership development, Human Relations and Change Expert, Award-Winning Author, Comedienne, and so much more. She delivers high-impact, high-energy keynotes with humor, how-to's and momentum-sustaining solutions. Her strategies have been celebrated by industry leaders, top sales professionals, global leadership teams and more than two million audience members from around the world. She specializes in Sales, Leadership, Change and Service. If you're looking for a groundbreaking business motivational speaker to make your next event extraordinary – contact Connie Podesta today.