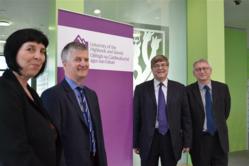 We need to improve our confidence and willingness to use the language if it is to thrive in our communities.
(PRWEB UK) 25 June 2013
The University of the Highlands & Islands [UHI] this month hosted a lecture in Stornoway entitled "Gaelic in Education." The keynote speakers were Mr. Iain Macmillan, Principal of Lews Castle College UHI and Dr. Frances Murray, Rector of the Nicolson Institute. The event was chaired by Mr. Matthew Maciver Chair of the UHI Court and retired Chief Executive of the GTC in Scotland.
Mr. Maciver introduced the lecture by stating that UHI was hosting the lecture in Stornoway to highlight the Gaelic Medium Higher Education courses which the university offers and that UHI had now been accredited to deliver a new Post Graduate Primary Teaching course in English and Gaelic.
He added that it was fitting that the lecture was taking place in Stornoway where Lews Castle College UHI and the Nicolson Institute are at the heart of the Gaelic community and as such, the Nicolson Institute is in a prime position to be a flagship of Gaelic Medium Education, working closely with the Gaelic Dept. of Lews Castle College UHI.
Both Nicolson Institute Rector, Dr. Frances Murray, and Comhairle nan Eilean Director of Education, Mr. Peter Carpenter, went on to expand on this theme by emphasising the contribution that the Nicolson Institute could make as the flagship school for Gaelic Medium Education, by being committed to producing its own Gaelic Language Plan. This plan will link up with that of Lews Castle College UHI. She also emphasised the growing importance and profile of Gaelic in the activities of the Nicolson Institute including classroom placements for Gaelic Medium probationer teachers and the participation of staff and pupils in supporting a wide range of Gaelic initiatives in the community.
Following on from these themes, Mr. Iain Macmillan, Principal of Lews Castle College emphasised the need to broaden our approach to Gaelic by enhancing our current provision for Gaelic Learners and our Higher Education provision for students. He outlined the range of Gaelic courses available in the islands through Lews Castle College UHI. This included new Primary Teacher Training and degree-level provision for people seeking to develop Gaelic Language skills and share in the history and culture of our islands and our people – through courses delivered both in English and Gaelic.
Mr Macmillan also expanded on Lews Castle College UHI's involvement in the SOILLSE project which seeks to address the challenges to the strength of Gaelic in our communities and the exciting new developments in the Lews Castle College UHI Music and Art courses in Uist. These continue to expand and attract many people into our islands not just to expand their musical and artistic knowledge and skills but to immerse themselves in the language and culture of the Gael.