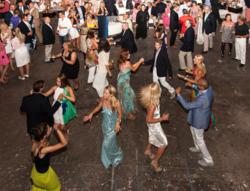 Those who attend our gala…support the IYRS model of experiential learning and the preservation of skills that lead to rewarding careers for our students. --IYRS President Terry Nathan
Newport, R.I. (PRWEB) June 24, 2013
Sponsors Fidelity Investments and Jaguar will help marine trades and technology school IYRS celebrate student achievements at the school's Annual Summer Gala on the evening of Saturday, July 6. Under the direction of co-chairs Earl and Elizabeth McMillen, the event will take place at the school's Newport campus to a theme of Maker, Builder, Craftsman: Past and Future.
"This year, we look forward to recognizing the exceptional art, craft and technology associated with the act of making, building and restoring," said IYRS President Terry Nathan. "Those who attend our gala will not only enjoy one of Newport's highlight events of the summer: they will also support the IYRS model of experiential learning and the preservation of skills that lead to rewarding careers for our students, both in and outside the marine industry."
The Gala will transform the IYRS campus from a place of industry into an elegant setting for cocktails, dinner, dancing, and live and silent auctions. Attendees will celebrate with cocktails inside Restoration Hall and then dinner under a large tent with special entertainment this year by Jimmy Buffett and his band. The school's marina will also showcase stunning vessels of the past and present—from historic motoryachts in the McMillen Collection to the latest in form and function from Hinckley Yachts.
A highlight of the Gala will again be the live auction and a special Collectors' Gallery silent auction. Among the auction items are: a seven-day charter on the stunning 105-foot sailing ketch Whitehawk; a painting of the schooner yacht Coronet by John Mecray; a stay in an oceanside villa in St. Barths during the St. Barths Bucket megayacht regatta; and a Lloyd McCaffrey miniature model of the Bounty.
The Gala is the centerpiece of an entire weekend of activity centered around IYRS, beginning with an open board meeting on Friday afternoon; entertainment on and off the water during the day on Saturday will precede the main event, which begins at 6 pm.
This year's Gala has attracted a strong lineup of sponsors. Joining title sponsors Fidelity Investments and Jaguar are: Argo Group, Conde Nast, BankNewport, Boat International, McMillen Yachts, The Hilton Group at UBS, The Hinckley Company, Three Golden Apples, Trade Winds Aviation and Wimco Villas.
For more information, visit the school's website at http://www.iyrs.edu.