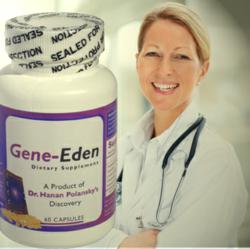 Many of our customers tell us about their fears regarding Gardasil. We are happy to tell the public about Gene-Eden-VIR, a natural product that helps the immune system kill the latent HPV virus. - Mike Evans, polyDNA
Rochester, NY (PRWEB) June 25, 2013
Many young women don't get vaccinated with the HPV vaccine. A new study shows that one major reason for this limited uptake of the vaccine are the horror stories told about Gardasil side effects. These anecdotal stories are normally told in women's social circles. The study was published in February, 2013 in the journal Prevention of Chronic Disease. (1)
"Sources of social influence…may play a role in adult women's vaccination intentions." (1) Many women used the term "they" when discussing the people who influenced them. According to the study, "they" are "family, friends, mass media, and health care providers. For instance, Mary V shared that she was instructed to stop taking the HPV vaccine because 'there's a big rumor...going around about them saying [the shots] done something; you couldn't have kids.'"
The study went on to quote a number of other women such as Brenda D. who said, "they told me not to do that [get the HPV vaccine] because it could cause [cervical cancer], they said so." Another instance of [negative] information [regarding Gardasil] was evidenced by Ashley V., who said she heard the HPV vaccine "caused a lot of people to die in Arizona... A lot of people were taking the shot got sick and died," and she heard this from "other women." (1)
"We are not surprised by the results of this study. Many of our customers tell us about their fears regarding Gardasil. We are happy to tell the public about Gene-Eden-VIR, a natural product that helps the immune system kill the latent HPV virus. What's great about this product is that since it was introduced to the market five years ago, we received no reports of side effects." – Mike Evans, polyDNA
Gene-Eden-VIR is a safe and effective HPV remedy with no reported side effects. In fact, in a post marketing study, over 70% of Gene-Eden-VIR users reported a reduction in HPV symptoms. (2)
polyDNA's Mike Evans pointed out that "In some cases, Gene-Eden-VIR produces complete immunity. This means that it boosts the immune system to 100% efficiency, and helps the body eliminate (or clear) all viruses of a specific type, specifically, those in the home base, or the latent viruses. When the person is clear of all the latent viruses, that person is said to be "cured." There are no viruses left and no symptoms.
However, sometimes, Gene-Eden-VIR does not boost the immune system back to 100% efficiency. In these cases, some viruses still remain in the body. If the immune system is strong enough to hold the foreign forces within their home base, there are no scrimmages, that is, no symptoms and no disease. When this happens, this person is not cured, but he experiences a long term remission."
Gene-Eden-VIR is highly effective against the latent HPV virus, each ingredient was chosen through a scientific approach. Scientists scanned thousands of scientific and medical papers published in various medical and scientific journals around the world to identify the safest, most effective natural ingredients that target the latent form of HPV. (3)
To learn more about Gene-Eden-VIR and HPV, visit http://gene-eden-kill-virus.com/HPV-Remedy.php.
References:
(1) http://www.cdc.gov/pcd/issues/2013/12_0183.htm
(2) http://www.cbcd.net/Gene-Eden-VIR-Clinical-Study.php
(3) http://gene-eden-kill-virus.com/studies.php
###
polyDNA is a biotechnology company that develops dietary supplements using the unique scientific method developed by Dr. Hanan Polansky, which is based on Computer Intuition.
In addition to his unique scientific method, Dr. Polansky published the highly acclaimed scientific discovery, called Microcompetition with Foreign DNA. The discovery explains how foreign DNA fragments, and specifically, DNA of latent viruses, cause most major diseases.
polyDNA developed Gene-Eden-VIR , an antiviral natural remedy that helps the immune system kill latent viruses.