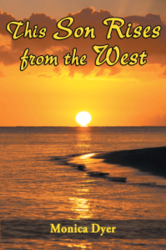 Today is the day Ricky hasn't even dared to dream about, the day he will be formally presented to the queen of England.
OCALA, Fla.
(PRWEB) June 24, 2013 -- Author Monica Dyer's new release from Dog Ear Publishing begins as Ricky Elliot, distinguished in the field of race relations, awaits his family's arrival. Today is the day Ricky hasn't even dared to dream about, the day he will be formally presented to the queen of England. How did a boy from a poor family from Jamaica climb to these dizzying heights? As he awaits his sisters, Ricky contemplates his life thus far.
His early years were joyful, filled with sunshine and love from his mother and father. His brother Calvin's disdain clouded his landscape, but Ricky was generally happy. He worked hard, and after his graduation, set out to learn a trade. Eventually, he felt himself longing for something beyond the colony he called home, something riskier that offered the potential for higher reward. Ricky moves to England, where he hopes his elder brother will, at last, accept him and aid him in this unfamiliar land. Alas, Calvin refuses to acknowledge him, leading Ricky into the darkest period of his life. Desperately poor, dangerously ill, Ricky manages to pull himself and his sisters into the light, and nothing can stop him now.
"This Son Rises From the West" is inspiring, and Ricky's journey from the island to accepting the highest honor the "mother country" offers is a fascinating story, one that will find readers rooting for him all the way. Author Monica Dyer, a native of Kingston, Jamaica, immigrated to the United States 45 years ago. Her determination to receive an education allowed her to follow an interesting employment track, where she has worked at everything from childcare to Wall Street. This is her first novel.
----------
For additional information, please visit http://www.thissonrisesfromthewest.com.
This Son Rises From the West
Monica Dyer
Dog Ear Publishing
ISBN: 978-14575-1715-0 228 pages $15.95 US
Available at Ingram, Amazon.com, Barnes & Noble and fine bookstores everywhere.
About Dog Ear Publishing, LLC
Dog Ear Publishing offers completely customized self-publishing services for independent authors. We provide cost-effective, fast, and highly profitable services to publish and distribute independently published books. Our book publishing and distribution services reach worldwide. Dog Ear authors retain all rights and complete creative control throughout the entire self-publishing process. Self-publishing services are available globally at http://www.dogearpublishing.net and from our offices in Indianapolis.
Dog Ear Publishing – self-publishing that actually makes sense.