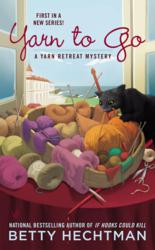 Los Angeles, CA (PRWEB) June 25, 2013
Popular cozy mystery writer Betty Hechtman launches her new series of knitting mysteries on July 2 with "Yarn to Go," the tale of a seaside retreat that begins to unravel when one of the attendees is found murdered.
"Yarn-obsessed crafters will feel right at home, but you don't have to knit – or even know how to knit – to enjoy these knitting mysteries," says Hechtman, author of the best-selling, "If Hooks Could Kill," part of her Berkley Prime Crime Crochet Mystery series.
Inspired by the hundreds of knitting retreats held every year, Hechtman brings together an unlikely group in "Yarn to Go" for a weekend at fictional Cadbury by the Sea on California's Monterey Peninsula.
"The retreat is being hosted by a young dessert chef, Casey Feldstein, who doesn't know a thing about knitting. She's hosting only because the retreat had been organized by her beloved aunt Joan, who was killed just a few months earlier in a hit and run," Hechtman says.
Fortunately, Casey has Kris Garland, a talented master knitting teacher, to help. But Casey has always had problems sticking with things and, as her six guests begin arriving, she realizes she's not the only person in the group with issues.
"In real-life yarn retreats, people spend a lot of time together working as a group and talking. It's very therapeutic!" says Hechtman, who began writing knitting mysteries after taking up crocheting and knitting herself just a few years ago. "In addition to Casey and each of the guests working through their personal problems together, Casey soon faces a much bigger concern."
When one of her guests is discovered dead in her bed with two knitting needles poking out of her chest, Casey decides it's up to her to find the murderer before the end of the retreat.
"Yarn to Go," now available for pre-order on Amazon, is the first in the Berkley Prime Crime Yarn Retreat series. The books are cozy mysteries, meaning they're good, clean fun -- no gore, no sex, nothing too dark.
"I have to admit it … Ms. Hechtman sucked me in," writes reviewer Christina Loman on her blog, Feel Good Knitting. "Actually, her portrayal of the little North Pacific resort town might be what really hooked me. I love feeling like I've been someplace new after a book, and she definitely does a good job of making me feel like I've seen the Monterey Peninsula.
"While I had a couple of 'main suspects' throughout the murder-mystery, and one of them was indeed the killer, I genuinely didn't know which one it would be until the big reveal. … All in all, a worthwhile read!"
About Betty Hechtman
Betty Hechtman is the author of "Yarn to Go," the first of her Berkley Prime Crime Yarn Retreat knitting mysteries. It's currently available for pre-order on Amazon and Barnes and Noble's website, and will be in bookstores July 2. She is also the author of the best-selling Berkley Prime Crime Crochet mystery series. The eighth book, "For Better or Worsted," comes out in November. Hechtman has written newspaper and magazine pieces, short stories and screenplays as well as a children's culinary mystery. She has a bachelor of fine arts degree and has been active in handicrafts since she was a small child. She divides her time between Los Angeles and Chicago.