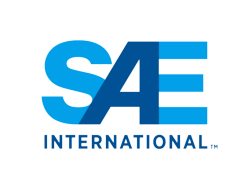 This initiative will reinforce SAE International's role as the ultimate knowledge source for all mobility engineers, and ensure that the industry "firsts" continue in the future. - David L. Schutt, PhD, CEO, SAE International
WARRENDALE, Pa. (PRWEB) June 24, 2013
SAE International announces the launch of a revitalized brand with the goal of unifying the organization, strengthening its global relevance and showcasing its entire portfolio of programs, products and services.
Through this updated brand, SAE International will be able to communicate a bigger, broader and more compelling story that will continue to propel the organization into global recognition.
"Throughout our history, SAE International has worked in tandem with global industry partners to fuel a series of firsts – some of these include engine oil viscosity standard for automobiles; creating a standard in response to counterfeit electronic parts; and developing an integrated solution for plugging into the Smart Grid," David L. Schutt, PhD, Chief Executive Officer of SAE International, said.
"As we move forward as an organization, our strengthened brand will help accelerate the momentum we have established through the years, which is important because we need to ensure that our brand keeps pace with the amazing work done here every day by our employees and members. This initiative will reinforce SAE International's role as the ultimate knowledge source for all mobility engineers, and ensure that the industry "firsts" continue in the future," Dr. Schutt added.
The refreshed SAE International brand also incorporates a new and aspiring appearance, including a new logo, and demonstrates the definitive authority that SAE International represents in the flourishing world of mobility engineering. It fully reflects the spirits of the organization's 138,000 members from more than 100 nations world-wide.
In addition, the brand better enables the society to unify and align the organization's sub-brands, including its award-winning Collegiate Design Series™ and A World in Motion® programs. SAE International's new brand will instill confidence at every level of involvement. Executives, engineers, students, and consumers alike will associate the name SAE International with knowledge and innovation.
In addition to its revitalized brand, SAE International's website (http://www.sae.org) will be updated and redesigned later this summer to expand access to the full complement of SAE International's intellectual property that is available to mobility engineering professionals.
SAE International is a global association committed to being the ultimate knowledge source for the engineering profession. By uniting over 138,000 engineers and technical experts, we drive knowledge and expertise across a broad spectrum of industries. We act on two priorities: encouraging a lifetime of learning for mobility engineering professionals and setting the standards for industry engineering. We strive for a better world through the work of our philanthropic SAE Foundation, including programs like A World in Motion® and the Collegiate Design Series™.