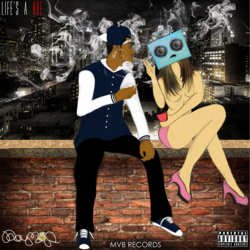 to take an upcoming indie artist and present them in a way where they look major, that takes talent, that takes creativity, it takes a special director to do that
New York, New York (PRWEB) June 25, 2013
The team over at MVB Records, an independent record label in New York City, are making sure that their Hip Hop artist's (RayBop) next mixtape album "Life's A HOE" is set up for success. Alongside street promotions, and a future mixtape listening/release party in July, they've also partnered up with Mills Miller Media, to direct the music video for Visionary: the official first single off the Life's A HOE mixtape.
Mills Miller Media has directed videos for a couple of major Hip Hop artists, such as Fabolous, and Jadakiss, but it was the videos for the independent artists that caught the attention of MVB Entertainment's CEO, and the owner of the independent record label MVB Records, Abdel 'Sosa' Russell.
"Most major Hip Hop artists are at a level where they make a music video look good. Anybody with a video camera, can shoot them and do a decent job. But, to take an upcoming indie artist and present them in a way where they look major, that takes talent, that takes creativity, it takes a special director to do that. Mills Miller Media has done some great work, with other independent artists like Lore'l and Fred The Godson. We knew hiring them to direct RayBop's video for his first single off the Life's A HOE mixtape was the right decision."
The mixtape Life's A HOE has a release date of July 23, 2013 on iTunes, and August 6, 2013 for all other stores including Spotify, Rdio, Deezer, and Amazon. It will also be available for preview and preorder on June 25, 2013 on iTunes. The first single off the mixtape is Visionary, a song that Sosa says is a great first single for people who have never heard of RayBop, and also a quick fix to the thousands of existing fans that continue to support the independent artist by purchasing and streaming his music.
The single Visionary will be released on iTunes and everywhere else on June 25th, 2013. Shooting for the music video Visionary will begin during the first week of July, 2013.
Regina(at)mvbentertainment(dot)com
MVB RECORDS is an independent record label, operating in New York City. The label is a division of MVB Entertainment Music Group (MVBEMG), and owned by MVB Entertainment LLC. MVB RECORDS was created for independent artists who have a growing fan base, and proven music and ticket sales.
Mills Miller Media, LLC was founded by Ian Miller, in order to give companies that full service interactive media service that they deserve.