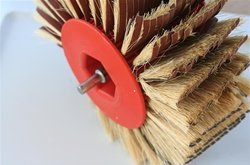 Our flap wheel sanders come in a variety of sizes and grit levels.
Pensacola, FL (PRWEB) June 25, 2013
A new line of flap wheel sanders designed for use with contoured wood surfaces has been introduced by woodworking tools supplier Flap-wheels.com. Made for use with portable drills, the sanders come in a variety of sizes and grit levels.
They are currently being marketed on the woodworking website QuickWood.com, which also sells automatic sanding machines.
"Flap wheel sanders are perfect for sanding pieces with contour or a profile, whether a door, a furniture part or anything else not flat in design," says product spokesperson Jacob Malherbe. "Flap wheel sanders are flexible and naturally conform themselves to the shape being sanded."
Both high and low areas are sanded with the same effectiveness, he notes, and the versatile sander is also gentle around edges. The maker says flap wheels sand best at spindle speeds between 300 rpm and 800 rpm. They are rated for a maximum speed of 1200 rpm.
For more information visit the product website at Flap-wheels.com or phone 1-866-888-5858.