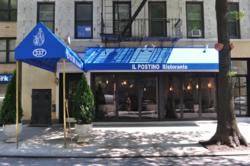 New York, NY (PRWEB) June 24, 2013
The warmer weather is finally here and Il Postino Ristorante Italiano is offering lighter fare on their Spring/Summer Lunch Prix Fixe menu. Diners can stop in for a delicious three-course lunch anytime from noon to 3 p.m. They can choose from the Antipasto, Primo or Secondo and Dolce menu items all for $29.
Some of their tasty antipasti choices include Chilled Gazpacho, Branzino Carpaccio, or Frisée Salad with mango, endive, goat cheese, roasted hazelnut and honey mustard dressing.
Simple flavorful main course offerings include grilled Striped Bass with fresh Salmoriglio herb sauce and served with sautéed spinach and potato. There is also Chicken Paillard with fresh raw artichokes, hearts of palm, basil, diced tomatoes and lemon dressing. For pasta lovers there is homemade Tagliarini with cherry tomatoes and basil.
The perfect end to any meal is dessert. Choices include ricotta cheesecake with strawberry jelly, truffle chocolate cake or even homemade gelato – a perfect way to keep cool on those hotter days.
Please visit Il Postino's website for the full prix-fixe menu as well as their a là carte lunch and dinner menus at: http://www.ilpostinony.com.
Il Postino also has a beautiful new awning. Last year, they renovated the interior of the restaurant with white tiled walls and sliding glass doors that open onto the sidewalk. With the new awning, the renovations are now complete. Stop in to check them out.
About the company:
Since 1997, owners Luigi Russo and Alfio Ruocco have established Il Postino as one of the most luxurious dining experiences in New York City. Named after the 1994 Italian romantic comedy, Luigi and Alfio aspired to bring their favorite homemade dishes from Italy to their guests here on a quiet street in Midtown East. Il Postino is known for mouth-watering dishes such as the freshest Dover sole, homemade "Agnolotti" pasta stuffed with ricotta cheese and spinach in a truffle cream sauce, fresh stracciatella cheese imported from Puglia, and zucchini flowers stuffed with prosciutto and mozzarella cheese. Along with these and many other delectable dishes, Il Postino is also known for preparing "whatever you like." For authentic Italian cuisine, Il Postino is the place to go. Their polished and gracious staff will treat guests to a memorable evening. Visit their website for more information.