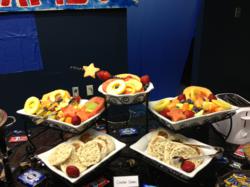 Thank you so very much for the party planning. Our "crew" enjoyed the tasty meals and every minute of the celebration. Your attention to every detail made it extra special.
- Kim Q., client
Tallahassee, FL (PRWEB) June 24, 2013
Street Chefs is proud to announce the addition of custom party menu services to its catering line.
They will draft a menu with awe-inspiring and creative takes on foods that represent any event theme. Customers are encouraged to provide as many specific details about their event as possible. Street Chefs is able to lend their unique services at the customer's home or venue of their selection.
A recent space-themed birthday party named "Out of this World" was a huge success for Street Chefs. The culinarians created martian wraps, through the strata-sphere casserole, black hole bean dip, crater cakes and other custom treats.
Chef Rebecca Kelly, owner of Street Chefs offers creative twists on family classics, providing food quickly with quality ingredients and flavor that give new meaning to the term fast food.
She is a certified Culinarian through the American Culinary Federation and has been a professional in the food service industry since 1997. She has worked in corporate kitchens, local catering companies and also teaches private cooking classes at The Kitchen Cottage at Lake Ella. Formerly a general manager of a national Quick Service restaurant, she was awarded GM of the year in 2009.
For more information call Street Chefs at 850-509-3831 for a free estimate on the specific event needs. Street Chefs also provides numerous special event booking services for more information with on site hosting, fixed and open rate options please visit their website at http://www.streetchefs.com.
About the company:
Street Chefs is a mobile restaurant located in Tallahassee, FL, providing lunch and dinner to the greater Leon County area. Established in 2011, the Street Chefs Mobile Diner provides a quality dining experience that is quick and convenient. Chef Rebecca Kelly offers creative food quickly with quality ingredients and flavor that give new meaning to the term "fast food." For more information, visit their website.