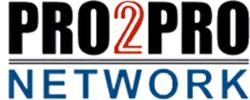 Huntingdon Valley, PA (PRWEB) June 25, 2013
Dr. Len Schwartz, President and CEO of Pro2Pro Network, has created a specialized service for Dentists and Chiropractors that provides them with a marketing solution for acquiring a steady flow of new patient referrals from MDs and Specialists in their city.
Inside the website at Pro2ProNetwork.com Dr. Schwartz reveals how any chiropractor or dentist can meet other MDs and Specialists in their city that are already interested in meeting, working with and/or referring to them.
Schwartz also explains how he has cracked the code on how to establish strong, fruitful referral relationships with other doctors to stimulate incredibly positive word-of-mouth, a steady flow of referrals and proper positioning.
Schwartz says, "Specialists like Chiropractors and Dentists can reach and serve 10X more patients within their market by simply establishing referral relationships with referral sources like MDs and Specialists. This is a strategic marketing approach that not 1 in 1000 doctors embrace.
The information revealed inside this website and company as Schwartz mentions, "The advantages of having strong referral relationships in place cannot be overstated. The amount of referrals, unique competitive advantage and 'bullet-proofing" of the practice has no comparison with any other marketing effort."
Along with getting Pro2Pro's website insight, tips, tools and strategies, group members will find answers to questions like:

How do I position myself as the best when I meet these doctors?
How do I get these doctors to refer to me?
How do I nurture these referral relationships?
How can I gain access to their huge database of patients?
With doctors struggling to stand out and acquire a steady flow of new patients, Schwartz says, "It only made sense to create a community of doctors and business professionals that are looking to secure multiple referral sources so they can receive a steady flow of new patients.
For more information on Pro2Pro Network, go to: Pro2ProNetwork.com.