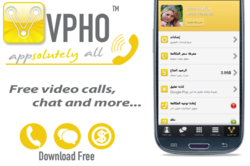 VPHO comes as a fully featured application in one user interface – a true "All In One" application,"
(PRWEB) June 26, 2013
VPHO, an app allowing users to make free phone calls and text messages, and the ability of call out GSM service to mobile and land lines worldwide, continues to provide excellent quality more features and service. VPHO is available at no cost for download in both iTunes and Google Play.
"The Call Out GSM services were a part of this increase in ranking since we launched. This was one of our goals and our vision, and we achieved it. Now, VPHO comes as a fully featured application in one user interface – a true "All In One" application," says Yuda Hadar, CEO and VPHO founder.
"We are now, giving our users a full package in one application for all of their communication needs. Free of use features like calls, text and video between VPHO users, and the ability of "Pay As You Go" Call Out packages in incredible cheap prices worldwide," says Hadar."We are always thinking and focusing on our users' experience and the quality of our services. Therefore, we are learning and continuing to improve with more in the near future."
VPHO Applications became popular because it offers a vast amount of features and translates into 14 languages with the means to engage users worldwide.
"Chat texts, voice calls, video calls and the GSM Call Out services – all of the highest quality. That's what we stand for," said Eliran Hadar, CTO of VPHO. "We are very proud to earn this achievement and the trust of our millions of users, with huge daily engagements. The VPHO mobile app is truly showing our experience – we would like to be one of the best applications in the world for giving people a way to communicate with their mobile or portable device."
For more information about VPHO and links to download the social networking app, please visit their website at http://www.VPHO.com as well in main market stores.
About VPHO
VPHO is a free to download application available in iTunes and Google Play worldwide in online stores. VPHO, script, popup and user interface translated and supports more than 13 languages in a left to right and right to left visualization and writing. VPHO supported languages: English, Spanish, Russian, French, Portuguese, Polish, Swedish, Norwegian, Hebrew, Arabic, and Chinese.