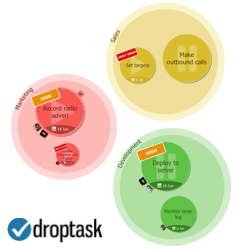 We've listened hard to feedback over the last few months and used this to create the new version of DropTask; including the extra features and usability improvements that both individuals and organisations have been asking for.
Cardiff, UK (PRWEB) June 25, 2013
Nowadays, everyone's feeling the pressure. From time-starved executives to on-the-go parents and teachers, keeping on top of tasks is a constant battle. There are numerous tools out there to help, but none quite like this. DropTask, developed by Think Productivity Ltd, is a free visual task management application that offers individuals and teams a completely fresh approach to managing to-do lists.
Launched 'silently' in February 2013, this web-based tool has picked up over 14,000 users to date and its popularity is growing rapidly. With DropTask, a basic to-do list is transformed into a geometric dashboard that allows people to see and manage all their projects and tasks in one bright, colourful space. Users create circles to categorise their tasks and then fill these with further circles representing all the individual tasks they need to carry out. As the name suggests, a simple drag and drop interface allows users to visually interact with and edit these tasks by changing priority, effort required, status, due date, and assignee. Tasks can also be further broken down into sub tasks, which are shown as segments that light up as they are completed, clearly showing progress. Notes and files can be attached to tasks, and teams can collaborate by adding comments for everyone to see.
The visual simplicity, practicality and intuitive design of DropTask sets it apart from the many online task management tools currently available. A CBS News reviewer described it as "the most unique twist on task management I've ever seen …It's a rare project manager I look forward to seeing every day," and LifeHacker reports that it "turns your tasks into an awesome Venn diagram of productivity." Today, DropTask is ranked #1 by Google organic search results for 'visual task management' and has recently been updated with a redesigned interface and a variety of new features. Managing Director of Think Productivity Ltd, William Lannen, comments: "The success of our launch took us completely by surprise given the early stage of the product. We've listened hard to feedback over the last few months and used this to create the new version of DropTask; including the extra features and usability improvements that both individuals and organisations have been asking for."
DropTask is not just about looking great and being easy to use, however - there's a science behind it. According to the latest research, the capacity of the brain to handle visuals and images is far more sophisticated than our conscious processing of text and lists. Psychologists Christopher Chabris and Stephen Kosslyn discovered that meaningful visuals can lessen cognitive exertion and improve our overall work experience, making us more productive. Plus, other studies have found that around 75% of the population favours visual/spatial thinking. In view of this, DropTask's design draws on fundamental visual principles (images, colour, space, keywords, hierarchy and 'single view' organisation) to present a tool that is mentally efficient and stimulating, as well as functionally relevant to the daily needs of real people and teams.
Highlights:

Web-based and free - Create unlimited projects and tasks via any web or mobile browser.
'Big picture' layout - Intuitive drag and drop interface allows users to visually present and group tasks in a single workspace, giving a quick snapshot of priorities and status.
Automatic notifications - DropTask gives users real-time updates about task changes, both in-app and via email, keeping everyone in the loop.
Activity tracking - Changes made to projects are logged in an activity stream; allowing users to catch up with anything they've missed.
Easy search and filtering - Search tasks or filter them by priority, status, tag, assignee or due date, helpful for making tactical decisions and reporting on progress.
Variety of views - In addition to its visual view, DropTask also features a list view, showing projects in a re-orderable to-do list. Great for defining task dependencies or order of execution.
Data organisation - Files and comments can be added directly to tasks, keeping everything in one place and not lost in a sea of emails.
Availability and Specifications:
DropTask is completely free. Users can sign up for an account and create multiple projects, groups and tasks. Friends and colleagues can be invited to join projects for team collaboration. The software works with all modern web browsers - recent versions of Safari, Google Chrome or Firefox, and Internet Explorer 9 or 10. A mobile optimised version is also available for use on iPhone, Android, Windows Mobile, Blackberry and others. Think Productivity Ltd plans to release native phone and tablet apps in the near future.
Visit https://www.droptask.com for more information, screenshots and a demo video.