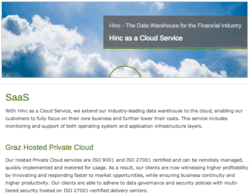 In recent years, we have seen an explosion of interest from clients in SaaS data warehouse solutions, particularly in the area of legal reporting
(PRWEB) June 25, 2013
Graz Sweden AB announced today that Swedbank Försäkring AB, the insurance arm of Sweden's largest bank, will leverage Hinc, Graz's data warehouse for the financial industry, via Software as a Service (SaaS). The contract will run for more than two years.
While the financial industry has been slow to accept SaaS solutions, this is beginning to change due to the great expense related to today's legal reporting and compliance environments.
Insurance companies, banks and asset managers increasingly see SaaS solutions as more cost effective than local hosting, while at the same time being less burdensome on internal IT departments.
"In recent years, we have seen an explosion of interest from clients in SaaS data warehouse solutions, particularly in the area of legal reporting," says Jonas Olsson, CEO of Graz Sweden AB. "Swedbank's insurance group was an early adopter in this area, which is why we are extremely happy that they have chosen to both extend and expand their cooperation with Graz."
"The Hinc data warehouse from Graz has supported our legal reporting for the last couple of years," said Göran Böhlmark, CFO at Swedbank Försäkring. "As we work to adapt to new rules and regulations, being able to tap into the power of the Hinc data warehouse via a SaaS model gives us continued control of costs and makes us more able to quickly and easily make changes if circumstances require."
About Graz
Graz Sweden AB is a data warehouse software provider for clients within the financial industry. The company's flagship data warehouse product, Hinc, is specialized in reporting and analysis for authorities' reporting, business intelligence, risk and portfolio replication, among other things. Today, the company serves four clients and its system is used by approximately 120 banks and 13 insurance companies. The system can be used as a local installation or as a cloud service.
About Swedbank Försäkring
Swedbank Försäkring's vision is to offer increased security in the Swedish market. Our complete range of pension and insurance solutions is sold through the largest distribution network in the market – Swedbank and Sparbankerna. Swedbank Försäkring, a wholly owned subsidiary of Swedbank, is one of Sweden's leading insurance companies.