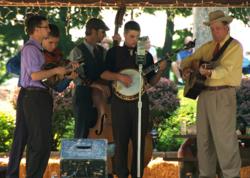 Fun activities throughout the summer in Hamilton County Indiana
(PRWEB) June 26, 2013
The summer months are very busy, but there are 20 things that one must make sure are on their summer check list if living in or traveling to Hamilton County Indiana. Hamilton County is on the northern side of Indianapolis and includes the cities/towns of: Carmel, Fishers, Westfield, Noblesville, Arcadia, Atlanta, Sheridan and Cicero.
These items are not in any particular order, just suggestions that one won't want to miss:
Go to a free concert, Hamilton County residents are very lucky that there are free concerts available every week in the summer through mid September.  For a list of great concerts, check out our Facebook list, and while you are there, please like our facebook page.
For the best fresh food, home baked goods and handmade gifts, the Hamilton County Farmers markets are a great stop, oh what fun! The Noblesville Farmers Market is Saturdays through October 12th from 8:00 am to noon at 839 Conner Street, Fishers Farmers Market is Saturdays through September 28th from 8:30 to noon at the Fishers Train Station and Carmel Farmers Market Is Saturdays from 8:00 to noon at the Palladium Green.
Visit a gallery, there are galleries in every city/town, take a relaxing walk through a few galleries and relax with the art.
Visit a 4th of July celebration, each town is planning a grand celebration starting with the Lights Over Morse, June 29- July 1, Carmel will celebrate on July 3rd and 4th with Carmel Fest and Westfield, Noblesville, Sheridan, and Fishers will all have celebrations July 4th.
Visit Connor Prairie, a living history museum with new activities each year, offering five historic outdoor areas, including the 1836 Prairietown, 1863 Civil War Journey, Animal Encounters, William Conner Homestead and the great air balloon rides.
See a play, there are several great places to go, our two favorites are The Carmel Community Players and Westfield Playhouse.
Enjoy great cars at the Artomobilia, August 24th at the Carmel Art's and Design District.
Take a train ride with the Indiana Transportation Museum, offering weekend train ride adventures.
Don't miss the Art of Wine Festival in the Carmel Arts District on July 20th. Featuring several Indiana wineries and great activities from the local merchants.
Create your own piece of art at Creative Escape, they also have great party ideas. The art creations include: pottery painting, silver jewelry, mosaics, glass painting, glass fusing and potter wheel.
Have a family portrait taken, we favor Wyant Photography, they have great summer specials with a unique 10 acre portrait park that includes a creek, pond with a waterfall, precivil war barn and the favorite - '54 chevy truck.
Have a picnic at your favorite Hamilton County Park. Each part offers unique family fun; hiking, games, movie nights, travel trips, pool or water park, putt putt golf and more.
Second Saturday is a celebration at the Carmel Arts and Design District, enjoy the merchants and galleries for the Second Saturday Gallery Walks.
First Friday is a celebration in Noblesville May through December, often the beginning of a weekend of activities.
Check out the Sheridan Blue Grass Festival, July 13th & 14th, with great music and food.
The annual Noblesville Duck Race, August 13th. Ok, it is with plastic ducks. A great fundraiser for the Main Street businesses in Noblesville and a lot of fun. The fastest ducks wins great prizes.
Have time out and great coffee at SoHo Cafe and Art Gallery, 620 S. Rangeline Road, Carmel. Thursday nights are open mic nights and weekends often feature musicians on the patio.
Visit the library for great events and good books.  A Hamilton County library card can be used at any of the Hamilton County libraries.
Visit one of the many historical locations; Carmel Historical Society, Hamilton County Historical Society in Noblesville, Sheridan's Log Cabin, or Connor Prairie.
Take a walk on the Monon, enjoy the sun and the fun.  Include the dog, but stop by Izzy's Place for some great treats for the walk, 816 West Main Street.
For long travels or short travels, Hamilton County is a great stop for family fun.