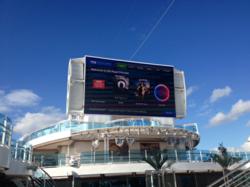 Currently deployed on Princess Cruise Lines' Royal Princess, Campaign Manager enables end users to interact and engage via a mobile device with messaging being shown to them on a digital sign or interactive TV application.
Minneapolis, MN (PRWEB) June 24, 2013
UIEvolution, Inc., the global leader in connected screen solutions, today announced the release of Campaign Manager, a digital signage creation and content management solution that combines the power of mobile and augmented reality engagement for a revolutionary dialogue with hotel guests and visitors. Campaign Manager publishes multimedia content to smartphones, tablets, smart TVs and other devices through a web browser, allowing non-technical resources to easily author and schedule content across digital signs. Currently deployed on Princess Cruise Lines' Royal Princess, Campaign Manager enables guests to interact and engage, via their own mobile device, with messaging being presented on an interactive digital sign or TV application.
Until recently, digital signage, has faced a technical barrier that has prevented marketing resources from maximizing their impact as a flexible and powerful way to advertise. With UIEvolution's Campaign Manager, publishing digital sign content is quick, non-technical and as simple as drag-and-drop. By using a web-based, visual interface, marketing professionals with minimal technology experience can intuitively create and manage content on digital signs across multiple locations using a PC or tablet. Digital signs can be managed individually or in groups, scheduled to show a variety of content at different times, and changed at any time from a simple Web interface. Even more, Campaign Manager makes interacting with a digital sign as easy as taking a picture. A guest simply holds up their smart phone to a digital sign and interacts to make a restaurant or spa reservation, translate menus into a native language and much much more.
"The challenge with digital signs has been the need to combine marketing expertise with technical skills to deliver high impact messages," says Chris Ruff, CEO and President of UIEvolution. "Businesses want to be able to support these systems with marketing staff, not limited technical resources. That is why we created Campaign Manager; to make digital signage simple and fast and empower businesses in the hospitality industry to delight their guests through interactive signage. The easy-to-use tools do not require technical knowledge, and the ability to engage visitors and guests is like no other solution on the market."
Campaign Manager is a cloud-based software that:

Integrates content management systems, third-party analytics and ad networks
Uses a web-based dashboard to build template-driven content for digital signs
Updates and manages the content on signs individually or in groups
Assigns schedules to one or more groups of digital signs
Publishes sign content from an easy-to-use drag and drop interface
Manages many signs across multiple properties
"In today's competitive digital signage market, companies are searching for ways to quickly and cost effectively engage with their guests," said Travis Beaven, Chief Operating Officer at UIEvolution. "They also are looking for ways to unify their digital strategies. Campaign Manager gives them the powerful tools to nimbly manage dynamic content as easily as they would on their own blog. It gives your guest a branded, engaged and personalized experience when interacting with digital sign content."
Campaign Manager is part of UIEvolution's Guest Evolution platform, a world class connected screen platform that is revolutionizing digital experiences around the guest, one screen at a time.
About UIEvolution
UIEvolution is the global leader in connected screen solutions for Enterprise customers in the hospitality, automotive and media industries. Creating rich, cross-platform native experiences on all devices and screens, UIEvolution is dedicated to evolving customers' digital business to better support the fragmented landscape of screens and devices. UIE's Evolution Platform breaks through the complexity of building and managing connected mobile, tablet, TV and automotive experiences, and provides the ability to create more connected experiences in less time. With offices in the United States and Japan, UIEvolution has a proven track record with clients like Toyota, AT&T, Microsoft, Disney, Samsung, Princess Cruises, Mitsubishi, Hikari-TV and other Fortune 500 companies.
Visit online: http://www.uievolution.com. Follow on Twitter: @UIEvolution.