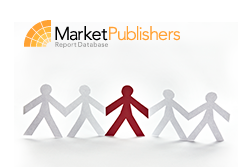 London, UK (PRWEB) June 24, 2013
Market Publishers Ltd and Neodata Limited signed a partnership agreement for quality market research promotion on Internet. MarketPublishers.com is now authorised to distribute and sell Neodata Limited research products.
"Our new publisher, Neodata Limited, is a leading company and market data organisation based in London, the UK. The company is dedicated to providing market intelligence through a broad range of products and directories, including company databases across various industry sectors worldwide. Their research products will definitely enable our potential and existing clients to prospect, target and better understand suppliers in the particular industry, and we feel hopeful about our fruitful relationship with Neodata Limited," commented Tanya Rezler, Assistant Manager at Partners Department at Market Publishers Ltd.
New Company Databases by Neodata Limited:
Internet Business Company Database. The database contains a list of internet companies and online services companies, and covers all aspects of internet business activity. Over 5,500 internet companies globally with more than 29,000 key senior management and executive contact names for this lucrative industry sector are featured …
Commodity Chemicals Company Database. The database comprises over 1,300 commodity chemicals companies with more than 11,000 key senior management and executive contact names for this industry sector. The database is available in Excel which enables easy filtering and sorting of data …
Management Consultancy Company Database. The database covering more than 8,000 global management consultancy companies, giving the following information: company name, address, country, website, telephone, revenue, industry overview, SIC industry/code, NAICS industry/code, employees, brief company profile, contact names and job titles …
Commercial Banking Company Database. The database discusses more than 1,400 companies worldwide with over 13,000 key senior management and executive contact names for this industry sector. It provides an understanding of the size and activities of a potential commercial banking supplier before engaging with that company …
Asset Management Company Database. What is the size and activities of a potential asset management company supplier? What are the distinctive features of various suppliers and companies in the asset management sector? What is the degree of competition in the market? The answers to all these questions and many more can be found in the database …
More details on Neodata Limited and their research products can be found at http://marketpublishers.com/members/neodata/info.html