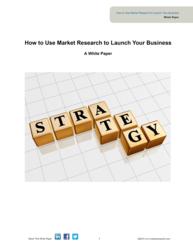 Rockville, MD (PRWEB) June 28, 2013
MarketResearch.com announces publication of How to Use Market Research to Launch Your Business, a whitepaper that takes a dive deep inside the strategy behind how to use business intelligence to take your idea to the market.
How to Use Market Research to Launch Your Business is a unique addition to contemporary business Solutions-oriented literature. In clear, engaging detail, it walks a business professional through all of the steps needed to launch a product or business and how to use market intelligence to make that business a success.
90% of first time businesses fail (According to Enlightened Marketing). In this whitepaper, you will get a systematic process on not only how to launch a new business, but a step-by-step approach on how to use market research to identify your market, finance your idea, find the right demographic for product positioning, use market research for marketing and advertising and more. The U.S. Small Business Administration estimated that 660,900 new businesses died within five years of its birth. Lack of knowledge was the main contributing factor.
The demand for higher quality market research is present in business owners who are increasingly seeing the importance of market research's role in business. The State University of New Jersey's Rutgers Business School reported that U.S. companies spend over $100 million annually on market research projects. For potential entrepreneurs, it is essential to learn how to apply market research to every facet of building a strong business with longevity.
Download How to Use Market Research to Launch Your Business here.
About MarketResearch.com
MarketResearch.com provides market research solutions to business professionals seeking to enhance their business goals. We provide a number of business intelligence solutions, from individual market research reports from over 700 leading global publishers, to Knowledge Centers where clients can discover deeper business insight products into a topic over time. Or perhaps your business needs a much wider view across multiple industries and topics, if so; our Profound solution allows you to select specific parts (graphs, tables, charts or sections) from different market research reports.