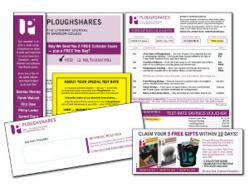 In any direct mail campaign, it's important to understand the audience of prospective customers.
Wayne, NJ (PRWEB) June 25, 2013
The Ballantine Corporation, a New Jersey-based full-service direct mail company, has just published a new blog post documenting the success experienced by a direct mail campaign for Ploughshares, the professional Literary Magazine at Emerson College. For this campaign, Ballantine handled the printing and mailing, while Adpsace Communications handled the strategy and creative development.
Ploughshares had found that the response rate for its mailings, asking people to subscribe, had been slowly shrinking over the last 10-15 years. The goal of this campaign was to develop a direct mail package that was attention grabbing, yet respectful to the potential subscribers.
The 2011 control used a two-color one-page letter with a response slip, tri-fold four-color brochure, and a #9 response envelope packaged in a two-color #10 window envelope. The new version updated the contents to include a two-page letter with interactive side-flap, two-color form with photos of guest editors, a one-sided buckslip highlighting premiums, an offer-driven chit, and a business response envelope.
The revamped mailer resulted in a response rate of 2.76%, far above the 2011 control, which had a 1.32% response rate. 80% of respondents provided cash on order as well. As an added bonus, 65% of the orders were for a two year term, rather than a one year term.
It was also discovered that a single window traditional envelope provided a better response rate than a close-faced matched mailing with an affixed addressing label, confirming that the extra expense of the latter option was not required. Ploughshares also offered two back issues as part of the offer, which added to the number of premiums and allowed Ploughshares to save money and space on warehousing back issues.
"In any direct mail campaign, it's important to understand the audience of prospective customers, and provide them with offers and benefits that resonate with them," notes Ryan Cote, Director of Marketing for The Ballantine Corportation. "The new campaign for Ploughshares did just that; providing useful information about the publication in an attractive package, and the response rate confirms that it worked."
To read this case study in full, please visit:
http://www.ballantine.com/direct-mail-case-study-featuring-ploughshares/
About The Ballantine Corporation:
The Ballantine Corporation is a family-owned direct mail company established in 1966. Services include direct mail, creative, personalized URLs and QR codes. All clients benefit from a strong combination of quality work, aggressive pricing and full production support. Ballantine's digital division, Ballantine Digital, specializes in helping companies increase their search engine visibility.