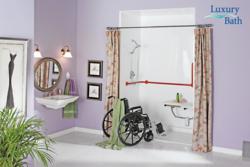 Glendale Heights, IL (PRWEB) June 25, 2013
The WINGS Group of Ferndale, Michigan, is building a barrier-free cabin for its non-profit "Wings Over the Lake" retreat. Bathroom remodeling company Luxury Bath and its local Michigan dealer have teamed up to provide the cabin with new barrier-free bathroom remodeling materials.
Founded in 1996, The WINGS Group is a positive social opportunity network supporting community members diagnosed with HIV/AIDS. The group owns and operates seven scenic cabins that can be rented along Lake Huron called "Wings Over the Lake," with proceeds supporting WINGS.
To help support Wings Over the Lake's goal of building its first barrier-free cabin at the retreat, bathroom remodeling company Luxury Bath has donated bathroom materials to help with the creation of the barrier-free bathroom. The company's local Michigan dealer, Luxury Bath by Mobility Remodelers, has also donated its time and resources into remodeling the barrier-free cabin's bathroom.
According to WINGS, the cabin will be entirely barrier-free, providing wheelchair access and greater independence for disabled users, as well as veterans who will now have the opportunity to enjoy the cabin's unique facilities in Applegate, Michigan. "Not only do we want to provide benefits for handicapped users, but particularly our veterans who have served our country," said Anthony Williams, a volunteer with the organization. The fist barrier-free cabin at the retreat is scheduled for completion by the end of 2013.
The barrier-free bathroom materials provided by Luxury Bath will help make bathing safer, more accessible, and more enjoyable for users. The bathroom remodeling company also provides affordable walk-in showers, walk-in tubs, tub to shower conversions, and grab bars to aid in the comfort and bathing independence of its users.
For more information on Wings Over the Lake or its ongoing barrier-free cabin project, visit WingsOverTheLake.com.
About Luxury Bath
Luxury Bath (http://www.luxurybath.com) has been providing one-day bathroom remodeling updates and ideas since 1991. Supplying over 900 different bathroom remodeling companies across North America, Luxury Bath offers customers new bathroom ideas and provides high quality affordable bathroom remodeling products.
About WINGS
Since 1996 WINGS has been an all volunteer organization in Ferndale, Michigan, supporting those affected by HIV/AIDS. The non-profit organization owns and operates the cabin retreat "Wings Over the Water" along Lake Heron, providing seven modern cabins with proceeds benefitting the HIV/AIDS community.
###