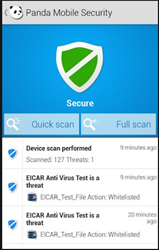 This beta version boasts numerous features including antivirus protection, a module for managing smartphone processes, and privacy management options.
Orlando, FL (PRWEB) June 25, 2013
Panda Security, The Cloud Security Company, has announced the release of the beta version of Panda Mobile Security, its solution for protecting mobile devices running the Android operating system. The app can be downloaded from Google Play: https://play.google.com/store/apps/details?id=com.pandasecurity.pandaavbeta.
Primary features of the mobile app include:

Antivirus protection: Scans newly installed apps on-demand and before they are first used. Also scans memory card content. Protection against downloaded threats: Scans apps and updates for threats and unwanted apps without affecting device performance.
SD card scan: Automatically scans SD cards for potential threats.
Privacy audit: Scans and displays access permissions on apps installed.
Process manager (task killer): Analyzes the activity of the apps installed on the device, and reports on the size, CPU consumption, and memory use, with the option to block them if necessary.
"This beta version boasts numerous features including antivirus protection, a module for managing smartphone processes, and privacy management options. We will also be including several other new features later in the year," said Herve Lambert, Retail Product Marketing Manager at Panda Security.
Malware on Android
Panda Mobile Security for Android is a major step forward for Panda Security in delivering protection for mobile environments. "At Panda Security we have been monitoring the dangers and threats to mobile platforms for some years, but it has been recently that we have seen a progressive increase in attacks on these types of devices, even if they are still notably less than those suffered by PCs. In this context, Panda Security has a major advantage: our knowledge of malware, regardless of the targeted platform. Panda Security has the benefit of a highly developed infrastructure for detecting and analyzing malware which allows us to develop multi-platform products, drawing on our experience, and the knowledge we have obtained through the community of Panda Security users," explained Lambert.
Every day, PandaLabs, Panda Security's malware analysis and detection laboratory, receives approximately 206,000 new files to analyze. Of these, around 74,000 are new malware strains that the company's Collective Intelligence system can analyze, classify and repair in 99.6 percent of all cases. "Collective Intelligence gathers information on malware from the worldwide Panda community to continuously improve protection levels for all our users. All our solutions benefit from this vast source of knowledge and experience, offering users a much faster response to the new malware detected every day, regardless of the platform," concluded Lambert.
The full-featured Panda Mobile Security for Android mobile app is planned for this September.
About Panda Security
Founded in 1990, Panda Security is the world's leading provider of cloud-based security solutions, with products available in more than 23 languages and millions of users located in 195 countries around the world. Panda Security was the first IT security company to harness the power of cloud computing with its Collective Intelligence technology. This innovative security model can automatically analyze and classify thousands of new malware samples every day, guaranteeing corporate customers and home users the most effective protection against Internet threats with minimum impact on system performance. Panda Security has 56 offices throughout the globe with US headquarters in Florida and European headquarters in Spain.
Panda Security collaborates with The Stella Project, a program aimed at promoting the incorporation into the community and workplace of people with Down syndrome and other intellectual disabilities, as part of its Corporate Social Responsibility policy
For more information, please visit http://www.pandasecurity.com/.