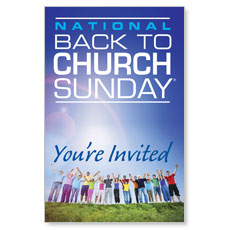 The Church is a revolution of love and freedom that has changed the world forever.
Colorado Springs, CO (PRWEB) June 27, 2013
National Back to Church Sunday introduces a new video for 2013. Viral videos mark today's culture and a new video answering the question, "Why Church?" has that same momentum. Since 369AD the church has been a catalyst for institutions like hospitals. Today the church still makes an impact as the largest single provider of health care in history. The church stands up for the rights of children. America's most prestigious universities were founded by the church. Take a close look and we find that the arts are also shaped by the church. It is no wonder that the church is still making an impact.
The Welcome to Church video will help people change the way they think about church. National Back to Church Sunday is committed to reaching the over three hundred thousand in America. On September 15, 2013 the goal is to have 20,000 churches participate that will host guests and visitors in church on the same Sunday across the country.
Last September over 13,100 churches participated, from 41 denominations, and together gave approximately 7.5 million invitations to friends and neighbors to attend church. People still talk about how amazing it is to see of record number of visitors that come out to participate in this powerful weekend.
Responding to a post-event survey churches report an increase of 38 percent in attendance. Survey results also show that 97 percent of participating churches would take part in Back to Church Sunday again.
In this millennium there are two primary audiences that need to be reached. The millennials who want to lend a helping hand to others and find tactical ways to engage communities near and far. And, the older generations; Builders, Boomers and Gen-Xers, who want to invest in improving their lives, by fixing their finances and marriages, helping their children and repairing relationships. No matter what the reason – congregations are resolving to make church an accepting place to become involved.
This year join the thousands of churches who will say to visitors "You're Invited!" to rediscover church. Take the initiative and reach out with a simple invite because, according to Lifeway Research, 82 percent of people are likely to respond with a "yes." Help America get back to church.
National Back to Church Sunday is the single largest annual community outreach in the nation, sharing the simple message and mission of inviting everyone in America Back to Church. The campaign empowers churches and church members with the tools they need to welcome their neighbors, friends and loved ones back to church, while providing the unchurched with an easy way to find a welcoming church in their community.