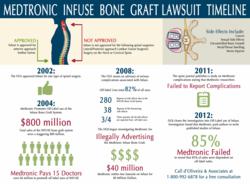 (PRWEB) June 26, 2013
A recent scientific review by Yale University published in Annals of Internal Medicine on June 18, 2013, revealed the latest about the safety and potential complications associated with Medtronic Infuse (i). The study detailed uncertainty regarding the safety of Medtronic Infuse use, discussing the previously downplayed risks and adverse events, as well as noting that the benefits provided by the device are not much greater than those derived from alternative spinal treatments. Discussion in the article further indicated that in clinical practice, Medtronic Infuse use has been primarily "off label," meaning the device has been used for procedures conducted in a manner inconsistent with how the FDA approved its use back in 2002 (i, ii).
The most common surgery for chronic lower back pain is what is known as vertebral fusion, or spinal fusion. In 2002, the FDA approved a genetically engineered protein (rhBMP-2) to stimulate bone growth and eliminate the need for patients to graft their own bone. Medtronic has been the sole manufacturer of these rhBMP-2 devices, commonly known as Infuse. A day before the study results came out, June 17, 2013, the Journal Sentinel released a watchdog report stating that Medtronic Infuse has been implanted in the spines of more than one million patients to date, and has recently been linked to serious harms including cancer, male infertility, the formation of excess bone, wound healing problems, and difficulty swallowing and speaking when used in the neck (ii). The Law Offices of d'Oliveira & Associates are presently working with experienced Medtronic lawyers who are representing people who are victims of this Medtronic device. Many have experienced severe pain, excessive bone growth, and troubles swallowing and speaking in instances where the device was implanted in the neck during an off-label procedure.
Attorney Paul d'Oliveira stated, "Patients deserve nothing less than full disclosure when obtaining medical treatment. Attending medical professionals owe it to patients to provide a candid assessment of the implications and potential risks of any surgical procedure. Anything short of that on the part of medical device manufacturers and medical providers should never be tolerated. Our justice system is based on the premise that careless people or manufacturers should be held responsible for their behavior and we are presently working with a leading law firm who is litigating these cases to obtain justice for victims of this medical device."
Prior Medtronic-funded publications about the device had highlighted its benefits, while understating the risks and drawbacks associated with its use. The skewed reporting in medical journals which detailed little to no adverse effects of the product had perplexed those medical professionals who specialize in spinal conditions and their treatment. Researchers recently revisited the product in an extensive scientific review as skepticism grew about the reliability of previous studies published about the product. The latest conclusions state: "In spinal fusion, rhBMP-2 has no proven clinical advantage over bone graft and may be associated with important harms, making it difficult to identify clear indications for rhBMP-2. Earlier disclosure of all relevant data would have better informed clinicians and the public than the initial published trial reports did" (i). The selective and under reporting of Medtronic Infuse outcomes has misled both clinicians and the public alike.
d'Oliveira & Associates has experienced attorneys who have been handling injury and disability cases for over 24 years, helping clients get the compensation they are entitled to. The firm has offices located throughout both Rhode Island and Southeastern Massachusetts, and the injury and disability lawyers stand ready to represent individuals who believe they may have a potential injury or disability claim.
Call 1-800-992-6878 for a free consultation, or visit d'Oliveira & Associates online at: dmlaw.com
Sources:
(i) Annals of Internal Medicine. Vol. 158, 12 (18 June 2013).
http://annals.org/article.aspx?articleid=1696646
(ii) Journal Sentinel. Watchdog Reports: "Reports Question Benefit of Medtronic's Spine Surgery Product." (17 June 2013).
http://www.jsonline.com/watchdog/watchdogreports/reports-question-benefit-of-medtronics-spine-surgery-product-b9935439z1-211874181.html