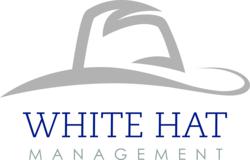 We feel they (WebTeach) are the ideal solution to help our educators and faculty in their continuing efforts to provide superior learning environments which both our students and parents have recognized as core competencies implemented by our schools."
Akron, OH and Pilot Mountain, NC (PRWEB) June 26, 2013
White Hat Management is pleased to announce that it has chosen WebTeach.com Enterprise as its online virtual classroom and digital learning platform provider. These virtual learning solutions will deploy state of the art blended learning and curriculum assessment programs to over 400 teachers and 7,000 students.
White Hat Management contracts with and assists non-profit corporations that hold charters or see a need for a charter school in their community.
"We needed to find a scalable virtual classroom platform that could support both our immediate as well as our long-term goals," says Maggie Ford, Chief Academic Officer of White Hat Management. "Our desire for a robust and easy to use platform that supports our BYOD policy that could elegantly integrate blended learning as well as to provide best in class dropout recovery services led us to WebTeach.com. We feel they are the ideal solution to help our educators and faculty in their continuing efforts to provide superior learning environments which both our students and parents have recognized as core competencies implemented by our schools."
"We are very excited to partner with such an innovative company that cares so deeply about providing the very best in quality education while at the same time maximizing accessibility to that quality education," said JW Ray, CEO of WebTeach.com. "White Hat's delivery model using WebTeach will provide their students a significant head start with the skills and abilities their students will need to compete in today's knowledge economy."
White Hat Management operates 33 schools in three states under the auspices of three separate educational ventures. DELA (Distance & Electronic Learning Academies) are statewide, tuition-free e-schools that serve students in grades K-12 throughout Ohio. The Academies are traditional school buildings that also are tuition-free and open to students in grades K-8 throughout the state of Ohio. Life Skills Centers are alternative education charter schools serving students between the ages of 16 and 21 in Ohio and Colorado.
Designed to empower educators and learners of all ages and stages, WebTeach.com participants create world class education experiences that can take place anywhere, anytime using virtually any web-enabled device such as desktop computers, tablets or smartphones.
WebTeach Enterprise is WebTeach.com's school-wide collaboration and learning product. Participants meet in "classrooms in the clouds" via WebTeach Live! sessions and may utilize any or all of the following features with an ever expanding list as the platform is under continuous development:

WebTeach Exclusive: Session Recording - Video record any WebTeach Live! session for unlimited play back and ongoing session attendance verification
Break Out Rooms – Ideal for small group discussions within a larger classroom context
Participant Privilege Assignment – Teachers control each participant's communication tool usage (text, audio, presentation capabilities, etc.)
Interactive Whiteboard – Draw, highlight images, share pictures and solve equations
Screen share – Share an entire screen, a specific document, websites and apps
Word Processor– Collaborate on essays and reports
Video and Audio Chat – Participants experience the look and feel of a real classroom
Polling - Create engaging check-in (informal assessment) questions for monitoring student engagement and understanding without interrupting session flow
Dashboard - Manage sessions utilizing comprehensive dashboards and social media style messaging
Cloud Drive - Store and retrieve previous WebTeach Live! sessions and other important materials using built-in cloud drive archiving
For more information about White Hat Management, visit http://whitehatmgmt.com.
If you are interested in learning more about White Hat Management and would like to interview Maggie Ford, Chief Academic Officer at White Hat Management, call 330-535-6868 or email Maggie.ford(at)whitehatmgmt(dot)com.
To learn more about WebTeach.com Enterprise solutions, please click here.