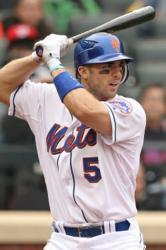 New York, New York (PRWEB) June 24, 2013
Mets fans can now find their 2013 Mets tickets, news and schedule at http://www.NewYorkMetsTickets.co.
David Wright and pitcher Matt Harvey both had a great afternoon on Sunday, June 23, as they helped their team demolish the Phillies 8-0. Wright went 4 for 5 with two of New York's season high seven doubles. The Mets took two of three games against the Phillies, just one week after winning a five game series at the NL East's top team Atlanta. David Wright has a home run in the game, a triple, and matched the Mets record with four extra base hits. While the third baseman is batting .407 with 14 extra base hits in his last 17 games, the team is trying extra hard to get him to start in the MLB All Star game in July. He hit his 12th home run of the season in the ninth inning, and finished only a single away from a cycle. The last Mets player to have four extra base hits in a game was back in 1999. Wright definitely had the help from his team yesterday, especially pitcher Matt Harvey. Harvey, who is now 7-1, allowed only two hits in six innings and struck out six Phillies players. With the win, he earned his first consecutive win since April. Harvey threw for four perfect innings and had a season low 27 pitches. It seemed Harvey also wanted to help out in the scoring department, as he also hit an RBI double and scored in a three run fifth that made the score 4-0. The pitcher made history as well, as he became the first Mets starter to win twice in one season at Citizens Bank Park. The loss was the seventh shutout of the season for the Phillies.
To watch the Mets continue on their hot streak, visit http://www.NewYorkMetsTickets.co. The team will face NL East foes the Washington Nationals this coming weekend. The site offers tickets without service fees, and you can share your experiences with other fans using the Mets social media hub.