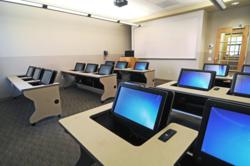 iLid enables multi-use classrooms, keeping all-in-ones at the ready, in an instant.
Baltimore, MD (PRWEB) June 25, 2013
Keeping pace with advancements in technology is an ongoing design process at SMARTdesks. When educators at Peirce College, Philadelphia, wanted to institute multi-use classrooms using HP Envy all-in-ones, they turned to SMARTdesks for the desking system. iLid Flip Top Desks, originally designed for multi-use PC classrooms, seemed like the best candidate for Peirce College's mission. iLid Touch SMARTdesks evolved as a "natural selection".
In the process of specifying the product for the floor plan, certain details had to be verified. The most important consideration was to determine if the all-in-one selected was compliant with VESA mounting standards. Early on, when LCD monitors were first developed, a standard was established, providing four screw-ins at 100mm or 75mm square on the back of the monitor to which the stand was usually attached. In the case where a different system was used, some manufacturers made a VESA Mount Adaptor that permitted the LCD to be mounted to LCD arms and SMARTdesks flipIT and iLid desktop systems. However, the newest class of all-in-ones are getting loose with including this standard. The HP Envy all-in-one, for example, is VESA mount compliant, however this feature is not mentioned in its specifications from HP. The stand is removable, and four mounting screw-ins at 100mm square are located on the back for alternative mounting. Thankfully, the HP Envy was Peirce College's first choice for all-in-one technology, so it was a perfect fit for the iLid Touch by SMARTdesks.
iLid Touch SMARTdesks are offered with either retractable keyboard trays or keyboard stow trays to keep the desktop clear when computers are not used. Peirce College selected the stow tray because the aisle space in their classrooms would not allow the additional eight inches in depth per row for a comfortable arrangement. These desks are at 29 inches in height, which apply good ergonomics for keyboard use on the desktop.
Other features of the iLid desks are: locking casters for arrangement mobility; a storage shelf, which can be used for CPUs, but also provides storage for personal items if used with all-in-ones; NeatLinks wire management channels and 80mm wire grommets for passing power cables easily and neatly from desk to desk; a 3 power + USB power strip per user; and a top surface, grommet mounted power/data port for use with laptops as needed.
iLid Touch is also available as a HorizonLine Computer Lab Table. The HorizonLine has reinforced steel legs and options for CPU holders that install to the HorizonLine leg system. All-in-ones, or course, have no CPU, but an adjustable size storage box is available as an option, which can be installed in a CPU holder. All other features are the same: Option of keyboard stow tray or retractable keyboard, Neatlinks wire management, Power strip with three 110HVAC plus USB, and options for top-side power-data ports to support the use of laptops. HorizonLine tables are available with laminate tops edged with PVC banding, or with thermofoil tops with comfort contoured edges. A wide range of designer colors is offered to coordinate any interior.
SMARTdesks designs and manufactures innovative, custom computer conference tables and computer classroom furniture. Each product is made to order, nuanced for the technology, purpose and interior design choices for the space. SMARTdesks is the patent holder for flipIT products and is the sole source for flipIT and factory integrated flipIT furniture products. Serving universities, corporations, government and military clients world-wide, SMARTdesks furniture is made in the USA using Certified GREEN manufacturing methods. For more information, contact smartdesks through the web site— http://www.smartdesks.com.