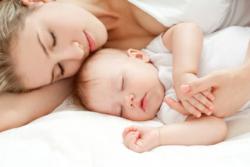 The majority of new mothers sleep with their babies at least part of the night. Webinar helps parents and practitioners know how to keep babies safe while bedsharing.
Amarillo, Texas (PRWEB) June 26, 2013
Recent studies have found that mother-infant bedsharing is very common, especially when mothers are breastfeeding. But mothers, and many healthcare providers, worry that it may not be safe. In contrast, other studies show that bedsharing sustains breastfeeding, which also helps lower risk of SIDS.
In light of recent well-publicized research findings, both parents and practitioners need answers to important questions.
-Is bedsharing always dangerous?
-Should we recommend that mothers and babies always sleep apart?
-Will "never-bedshare" policies lead to early breastfeeding cessation or possible unsafe sleep practices, such as sleeping with baby on a couch or recliner?
-What do parents need to know?
Praeclarus Press offers a three-hour webinar, Keeping Babies Safe While They Sleep:
What Do Parents Need to Know about Safe Bedsharing. This webinar is open to parents and practitioners. It is designed to address:
-Concerns about bedsharing raised by recent studies
-Recent research reports and policy statements by the American Academy of Pediatrics and other organizations
-The potential benefits of bedsharing
-The essentials of safe infant sleep.
Featured speakers include:
James McKenna, Ph.D., Professor of Anthropology and Director of the Mother-Baby Behavioral Sleep Laboratory, University of Notre Dame, and Author of Sleeping with Your Baby.
Kathleen Kendall-Tackett, Ph.D., IBCLC, Clinical Associate Professor of Pediatrics, Texas Tech University School of Medicine, Editor-in-Chief, Clinical Lactation, and co-Principle Investigator of the Survey of Mothers' Sleep and Fatigue, a study of 6410 new mothers.
Wendy Middlemiss, Ph.D., Associate Professor of Psychology, University of North Texas, co-author Simple Ways to Calm a Crying Baby.
The live webinar is June 28, 2013, 2-5 p.m. EDT. Sessions will be recorded and a link will be available to listen to the recorded version. The cost to attend is $30 for CERPs/Continuing Education, $15 to attend with no CERPs/Continuing Education. Group discounts are available.
For more information, call 806-673-3901 or info(at)praeclaruspress(dot)com. To register online, go to http://bit.ly/14ohhC6