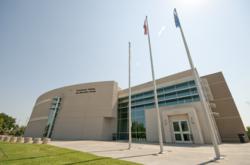 "Our placement rate is 70 percent," Clark said. "The jobs are out there."
Oklahoma City, Oklahoma (PRWEB) June 26, 2013
According to a release from the Environmental Protection Agency, Rose State College in Oklahoma City was one of two institutions in a six-state region to receive the grant, almost $200,000, to train water plant operators in hazardous waste, water and wastewater treatment systems.
Environmental training director Bill Clark said students will be trained in 40 hours of HAZWOPER (hazardous waste) training, and 108 core hours of environmental training, including waste and liquid wastewater treatment systems operator, confined space entry, trenching and excavation, chemical safety awareness and hazard communications, and UST leak prevention, with state and federal certifications offered. The college will then work with municipal, tribal and federal agencies for job placement.
"Our placement rate is 70 percent," Clark said. "The jobs are out there."
According to the EPA's release, the classes will emphasize recruitment of unemployed or underemployed workers.
"These grants are provided to local community job training organizations that have demonstrated partnerships with employers who have expressed a willingness to interview and hire graduates. I am happy to continue to support this important and tremendously successful EPA program that has successfully placed more than 71 percent of program graduates in environmental careers since the program's inception in 1998," said Mathy Stanislaus, assistant administrator for EPA's Office of Solid Waste and Emergency Response.
Funding for the three-year grant is $196,450. For more information, call (405) 733-7488, email bclark(at)rose(dot)edu, or visit http://www.rose.edu/oklahoma-environmental-training-center.
Rose State College in Oklahoma City is a two-year degree-granting institution, located approximately 10 minutes east of downtown, just off Interstate 40 and Hudiburg Drive. Rose State College also provides certification training, such as HAZWOPER certification.