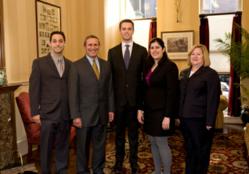 (PRWEB) June 26, 2013
The Law Firm of Pozzuolo Rodden, P.C., Philadelphia Family Law Attorneys, announces the release of the article " How Can A Custodial Parent Relocate With Their Child?" If you would like to read more, please read the full article and other corporate law, or estate planning topics at: http://www.pozzuolo.com
How Can a Custodial Parent Relocate With Their Child?
In January 2011, the Child Custody Act ("Act") adopted by the Pennsylvania Legislature became effective for all disputes related to child custody. The new Act directly deals with the concerns that arise when a parent having primary physical custody of a child or children desires to relocate or move out of the jurisdiction of the Court with the child or children. Not every move qualifies as "relocation" under the Act, which defines relocation as a "change in residence of the child which significantly impairs the ability of a non-relocating party to exercise its custodial rights."
The Act only permits relocation when all individuals with custody rights consent to the relocation or if the Court approves the relocation. The party wishing to relocate must provide notice to all other parties with custodial rights to the child at least sixty (60) days prior to the intended relocation. The party receiving the notification of relocation then has a chance to object to the proposed relocation. If the relocation is not consented to, then the Court will consider the matter on a case-by-case basis and the party requesting the relocation has the burden to show that the relocation would be in the child's best interest.
Please read the full article "How Can A Custodial Parent Relocate With Their Child?" and other corporate law or estate planning topics at http://www.pozzuolo.com
Pozzuolo Rodden, P.C. provides specialized cost-effective legal services to privately held business owners and high-net-worth clients in Pennsylvania and New Jersey in excess of 35 years.
Practice Areas:
Business planning and transaction, complex business litigation, commercial real estate and development, construction law and litigation, advanced estate planning and administration, tax and pension law, high profile and intricate family litigation, and employment law and litigation.
Pozzuolo Rodden, P.C.
Counselors at Law
2033 Walnut Street
Philadelphia, PA 19103
215-977-8200
http://www.pozzuolo.com