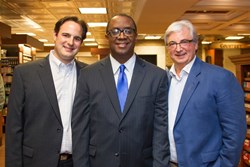 We welcome our Armonk neighbors into the DeCicco's family and look forward to building the types of personal relationships that they expect from their neighborhood food market.
Armonk, NY (PRWEB) June 24, 2013
DeCicco Family Markets, a second generation grocery chain with 10 locations in Westchester, Putnam, Rockland, and Orange Counties, proudly announces its 11th location in the newly constructed Armonk Square in downtown Armonk. The store opened its doors on Friday, June 14, following an invitation-only grand opening for more than 300 family members, vendors, friends, and area dignitaries on Thursday, June 13.
The two-story, 18,000-sq-ft store, second in size to only the company's Brewster store, was stylishly designed by Antonucci and Associates and incorporates rich cherry wood walls, custom tile flooring, extensive stone work, and a copper and tin ceiling. It offers shoppers classic DeCicco's quality, variety, and service in a contemporary market, with a full-service deli; meat department featuring a selection of prime, aged steaks; bakery with all products baked on the premises; fresh seafood department; large gourmet and specialty selection; and hundreds of cheeses and beers from around the world. The produce department carries fresh items from local farmers, as well as organic and international vegetables and fruits. Included in an expanded prepared foods section are a new line of prepared dinner items.
Unique to this store are its second floor gastropub selling wine by the glass and two dozen beers on tap, demo kitchen featuring cooking classes by celebrity chefs, and bocce courts. Shoppers are invited to bring coffee or gelato upstairs and to enjoy other fare created by DeCicco's, as well as Armonk's own Fortina restaurant.
The grand opening event featured music from DJ Joe Fratto, who also manages DeCicco's deli department, and arias by Italian tenor Luciano Lamonarca. County Legislator Michael J. Smith thanked DeCicco's for its commitment to the County on behalf of the Board of Legislators and County Executive Robert Astorino. In addition to a full buffet, DeCicco's introduced Imperial Biscotti Break beer, an Imperial Porter brewed exclusively for DeCicco's by Evil Twin Brewing.
The second DeCicco generation, John Jr., Chris, and Joe Jr., opened their first area food market in Ardsley in 2006, bringing the type of service and quality that DeCicco's has been known for since its founding 40 years ago in 1973. The area stores each uphold the DeCicco tradition of keeping a firm eye on the future while never forgetting the promises and mindset of the past.
"We welcome our Armonk neighbors into the DeCicco's family and look forward to building the types of personal relationships that they expect from their neighborhood food market," says John DeCicco Jr. "As part of our integration into each of our DeCicco's neighborhoods, we also donate one percent of store sales to the PTA in the local school district to use as they see fit."
DeCicco's and store manager Charles Macias invite area shoppers to enjoy the DeCicco's experience at its new Armonk store. The store is located at 17 Maple Avenue, Armonk Square, in downtown Armonk, http://www.deciccos.com.
About DeCicco's:
DeCicco Family Markets was founded in 1973 by John, Joe and Frank DeCicco. It began as a small storefront in the Bronx, offering a choice of high quality food to its growing array of customers. For 40 years, DeCicco Family Markets has a proud history of bringing the largest selection of high quality food available to customers with a friendly, personal touch. It is this simple but unwavering mentality that has enabled the company to expand throughout Putnam, Rockland, Westchester, and Orange Counties. The family operates 10 stores in the following locations: Ardsley, Brewster, Chester Heights, Cornwall, Cross River, Harrison, Jefferson Valley, New City, Pelham and Scarsdale. The company is also involved in a number of civic and community-related events, regularly working with schools, Little Leagues, churches and Chambers of Commerce groups.