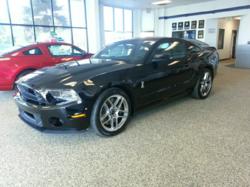 Hanford, CA (PRWEB) June 24, 2013
Jim Maze of Valley Ford is excited to announce the availability of their first 2014 Ford Shelby GT500 at their dealership at 455 11th Avenue in Hanford, California. A 662 horsepower V8 engine controlled by a 6-speed manual Tremec transmission power this stunning black Shelby GT500. The addition of charcoal black leather interior adds even more beauty and style to this stunning example of an American muscle car. This powerful car boasts a top speed of over 200 mph, right off the showroom floor.
The Carroll Shelby enhanced version of the Ford Mustang first appeared in 1965 and has been sought after by both car collectors and muscle car enthusiasts since it debuted. Recently, a special 1967 Shelby GT500 Super Snake sold for $1.3 million dollars at auction after being originally purchased from Shelby himself for a mere $5,000. The 2014 Ford Mustang line is extra special as it will be the 50th Anniversary of one of America's, and the world's, favorite cars. Soon and for the first time, those in Great Britain will be able to purchase a new Ford Mustang from their local Ford dealer, which is a testament to the popularity of these great cars beyond the United States. The 2014 Shelby GT500 will turn heads and get you where you are going, quickly, comfortably and in style!
If you want to get a closer look at this awesome example of American muscle, stop by Valley Ford today. They are located at 455 11th Avenue in Hanford, California and easy to get to from all over the central California area. For more information about this particular 2014 Ford Shelby GT500 or any of the other great cars, trucks and SUVs available at Valley Ford, please visit their website at http://www.FordofHanford.com or you can reach them by phone at 888-730-9934.