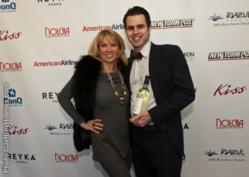 New York, NY (PRWEB) June 25, 2013
Fashion designers and aspiring fashion show producers are invited to submit questions for veteran fashion show producers who will share their knowledge and expertise about producing a successful fashion show during a fashion week event.
The online webchat series "Runway Roadmap: Fashion Show Production: will be held Thursday, June 27th at 2PM EST by FashionMingle.net, a networking and PR platform for fashion entrepreneurs.
Questions for Melissa d' Attilio of Fly Productions, a producer of fashion shows for top designers at Mercedes-Benz Fashion Week; Arthur Mandel, Co-founder of Nolcha Fashion Week, an official New York Fashion Week event, and Tracee Dundas, Founder and Creative Director of Fashion Week New Orleans, can be submitted on the FashionMingle.net website.
Melissa d'Attilio established Fly Productions in 1998 and has produced fashion shows at Mercedes-Benz Fashion Week for top designers such as Naeem Khan, Rebecca Taylor, Diane Von Furstenberg, Chanel, Jil Stewart, Ralph Lauren and more. She will share advice for designers who wish to show their collections on the biggest stage in the world.
Arthur Mandel is the co-founder of the award-winning Nolcha Fashion Week, a leading platform for independent fashion labels to showcase their label to a global audience of press, retailers, stylists and industry influencers. Arthur has produced over 100 fashion shows and will share his insight into marketing and fashion show event production.
Tracee Dundas is the Creative Director of Fashion Week New Orleans which presents over 50 runway shows each year featuring retailers, boutiques, established and emerging designers. Tracee will share her experience of creating a fashion week experience in the city of New Orleans and what designers can expect from launching their label in a regional fashion week event.
The "Runway Roadmap" series is produced by Jaxon Entertainment & Productions and is sponsored by Planet Fashion TV, Created Woman Magazine, and the Houston Fashion Bloggers Association. Previous intallments of the four-part series can be watched on the FashionMingle.net website.
About FashionMingle.net
FashionMingle.net is a network for fashion entrepreneurs to share, discover, and mingle. The online magazine, business directory, and social network creates a platform for fashion entrepreneurs to promote their services and grow their business.