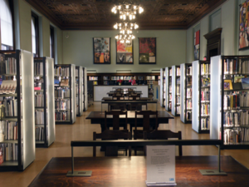 Fort Atkinson, WI (PRWEB) June 24, 2013
Spacesaver Corporation, an industry leader in library storage and shelving solutions with be exhibiting at 2013 American Library Association (ALA) Annual Conference & Exhibition held in Chicago from June 27 – July 2 at McCormick Place.
Visitors interested in learning more about library repurposing can stop by booth #1254 and see Spacesaver's high-density mobile storage and off-site Xtend high bay product solutions. Plus, request a complimentary copy of our newest white paper "Space Planning Considerations for Library Repurposing."
Spacesaver will also be showcasing a recent library repurposing installation at the historic St. Louis Central Public Library in St. Louis, MO.
Featured Project: The St. Louis library's collection, made up of almost four million items, was originally stored on an old self-supporting structure, ten tiers high. As part of the renovation, the space was opened up, much of the collection was moved into high-density storage systems and the rest was left exposed behind glassed-in enclosures. The collection was condensed onto three floors, vs. the ten, due to the use of high-density mobile storage both onsite and offsite, creating more room for other repurposed spaces in the building, like collaboration areas, an auditorium and a café.
Featured Products: XTend High Bay Storage Systems. Libraries, off-site book depositories, and archival record centers all face the same paradox: squeezing ever-increasing, irreplaceable book collections and records into ever-decreasing storage space. The solution is the innovative and proven XTend® High-Bay shelving system. Intelligently designed and built for stable storage of book trays and archival boxed records for optimal flexibility, space efficiency, economy, accessibility, protection, safety and containment. XTend is also a great solution for evidence storage and museum applications. Spacesaver offers fully tested and proven XTend High-Bay solutions in both static and mobile options.
About Spacesaver: Spacesaver Corporation is the industry leader when it comes to High-Density Mobile Storage; secure storage, locker storage, cantilever shelving, and other shelving solutions. Whether you're in need of library shelving, office storage solutions, military storage, museum storage, evidence storage, sterile healthcare and pharmacy storage, or mobilized industrial storage solutions, Spacesaver has a nationwide network of local authorized representatives, The Spacesaver Group, who sell and support their industry-leading, innovative storage solutions. Spacesaver is a division of KI located in Green Bay, Wisconsin. For more information, visit http://www.spacesaver.com.
About KI: Spacesaver Corporation is a division of KI (Green Bay, Wis.). KI manufactures innovative furniture and movable wall system solutions for education, healthcare, government and corporate markets. KI tailors products and service solutions to the specific needs of each customer through its unique design and manufacturing philosophy. Visit http://www.ki.com to learn more about KI products and solutions.