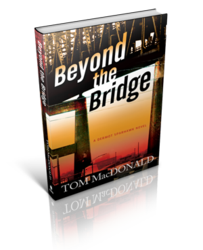 "...noirish tale of murder and misdirection. A solid debut."
—Booklist
Longboat Key, FL (PRWEB) June 26, 2013
Boston priests fear for their lives.
Dermot Sparhawk, a former all-American football star at Boston College, returns in Beyond the Bridge, the prequel to Tom MacDonald's award-winning debut novel, The Charlestown Connection.
In Beyond the Bridge, Sparhawk, a struggling alcoholic, agrees to help find the killer of an accused pedophile priest. When two more priests are slain in Boston's Charlestown neighborhood, it becomes evident that it is the work of a sadistic serial killer who crucifies his prey after killing them.
Sparhawk blazes an unconventional trail to the killer that puts him at odds with the very people he is trying to help and initiates a turf war with law enforcement. He gathers a cadre of unlikely allies, including a parish priest, a police lab criminalist, the district attorney, and a state police lieutenant who help to rebuff attempts to derail him from the case. Then, with the help of his Micmac Indian cousin and his paraplegic tenant and former Boston College teammate, Sparhawk bulldozes his way to the truth, while putting his own life at risk.
Praise for Tom MacDonald and his Dermot Sparhawk series:
"Beyond the Bridge establishes the Dermot Sparhawk series as one of Boston's finest, worthy of sharing the shelf with Robert B. Parker's iconic Spenser novels. Tom MacDonald's roaring good story, fueled by marvelous characters, hits the gas on page one and never lets up. This book assures MacDonald a place in the top tier of New England suspense writers."
— Julia Spencer-Fleming, New York Times best-selling author of Through the Evil Days
"MacDonald deftly juggles all the plot balls he throws in the air in his solid thriller debut."
—Publishers Weekly
"Brisk pacing and plenty of bad guys keep the pages turning in MacDonald's art heist tale. The jump into art forgery is a big leap, but MacDonald keeps all his plays moving in a winning style. He introduces intriguing, flawed characters and atypical neighborhoods, making for a highly entertaining read."
—Library Journal
Oceanview Publishing is an independent book publisher headquartered in Florida.
Oceanview is a proud member of International Thriller Writers and Mystery Writers of America.
You can find us on Facebook at: http://www.facebook.com/oceanviewpub.
Follow us on Twitter @oceanviewpub.
For more information, please contact David Ivester by phone (941-387-8500) or by email davidi(at)oceanviewpub(dot)com.