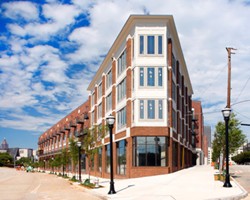 Atlanta, GA (PRWEB) June 24, 2013
Community One Associates, a FirstService Residential Management company, has been chosen to provide property management services for Castleberry Point Lofts, a four-story, 117-unit residential/mixed-use condominium community located at 333 Nelson Street, SW.
Castleberry Point Lofts is situated in the heart of Castleberry Hill, Atlanta's historic arts district. This vibrant neighborhood is renowned for its art galleries, loft residences, and up-and-coming restaurants. Built in 2006, this loft style, mixed-use building is already home to the Zucot Gallery, Wine Shoe, Sweet Tooth Desserts, Krucial Kuts Barber, Iwi Fresh Day Spa, Castleberry Movie Tours. Super 7 Pizza Shoppe and Castleberry Point Marketplace are slated to open for business by this fall.
"Castleberry Point Lofts chose to partner with Community One Associates because of its ability to provide the high level of service and expertise that this community was seeking," said Matt Phillips, CEO of Community One Associates. "Our company has broad experience managing mixed-use condominium projects throughout Atlanta and Nashville, and we are thrilled to welcome Castleberry Point Lofts to our management portfolio."
About Community One Associates
Atlanta-based Community One Associates provides residential and commercial association management services for more than 100 communities throughout Georgia and Tennessee. The business employs over 120 associates, including onsite management and support staff.
Community One Associates is a subsidiary of FirstService Residential Management (FSR). FSR is the largest manager of residential communities in North America, overseeing more than 6,000 properties and over 1.5 million residential units.
To learn more about Community One Associates, call (404) 805-0199 or visit http://www.communityoneassociates.com