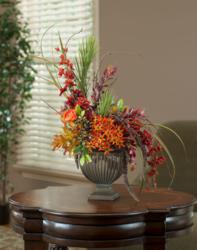 "Our designs offer endless options for adding rich, colorful fall flair to the interior."
WHITE PLAINS, NY (PRWEB) June 26, 2013
Awe-inspiring autumn décor is made easy with spectacular new creations from Silkflowers.com. The nation's largest supplier of designer-quality silk botanicals, Silkflowers.com is pleased to announce its Fall 2013 collection.
The company's Hydrangea Nosegay ($59) is the perfect transition from summer to autumn with its rich tones of basil/moss, rust/cinnamon and ruby/burgundy, accented by turning leaves and feather fern wisps. The eye-catching Lily and Agapanthus Delight ($199) also blends summer and autumn hues in a delightful arrangement of garden flowers including lily, delphinium, hydrangea, cosmos, ranunculus and mums.
Also new are the Perennial Autumn Accent ($89), a stunning bouquet of "perennial" silk favorites: alstroemeria, ranunculus, cosmos, pom pom mum and gloriosa lily; the Succulent and Orchid Terrarium ($129) in which echeveria and dendrobium orchids escape from a 10-inch tall glass terrarium vase; and the Harvest Moon Accent ($69), orange spider mums, rust pom poms, and yellow zinnias garnished by lacy fern and woodland berries.
"Autumn décor can't get any easier," Tim Hennessy, co-founder of Silkflowers.com, said. "Our designs offer endless options for adding rich, colorful fall flair to the interior. They display beautifully on their own yet also complement other fall décor favorites like mini pumpkins and gourds."
For those wanting a tropical twist to their autumn expressions, Silkflowers.com offers the Orchid and Calla Lily ($149), a magnificent low centerpiece of tropical orchids, heliconia, calla lilies and croton leaves in a brick red ceramic planter. And for Japanese Maple lovers, nothing says autumn better than the fiery red leaves of Silkflowers.com's Dwarf Japanese Maple ($159). Handcrafted by artisans on natural wood trunks, it looks unbelievably real and will complement any autumn décor.
"Today's quality silk flowers and plants look more realistic than ever, thanks to ongoing improvements in technology," Hennessy added. "Plus, they last for years. Sure, fresh flowers can enhance interiors, too, but why purchase something that will wither and die within a week's time?"
Silk botanicals also are conveniently maintenance-free, unlike fresh cut flowers for which vase water must be changed every few days, and fallen leaves and petals cleaned up. Display silk botanicals not only this autumn but throughout the year. Silkflowers.com offers stylish designs for winter, spring and summer as well. (Browse http://www.silkflowers.com/seasonal-collections.)
Silk florals make wonderful gifts, too, from housewarmings to holidays to birthdays. Gifts purchased from Silkflowers.com ship directly to the recipient's doorstep, expertly packaged to arrive in perfect condition, ready to display right out of the box. Unlike live cut flowers, silk flowers won't freeze or wilt due to extreme temperatures if left on a doorstep by a delivery person. A stylish gift card that may be personalized is also included.
For more information and high resolution photography, visit http://www.silkflowers.com/pressroom. The company has an informative and fun blog, http://blog.silkflowers.com/, and is on Facebook and Twitter.