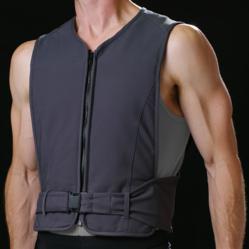 Coolture provides a core body cooling that improves performance while preventing heat injury.
(PRWEB) June 25, 2013
The cooling apparel company Coolture merges technology with design, putting an innovative slant on cooling vests formerly designed for industrial and military purposes.
It took a former DKNY designer with heat intolerance due to Multiple Sclerosis to improve upon a clumsy solution for a vulnerable audience: hot weather debilitates the side effects of most chronic illnesses, including MS, heart conditions, respiratory conditions, Fibromyalgia, and others. But Coolture designer Van DiBernardo says he designs "for people, not patients," believing that quality solutions deserve quality design. Proof of this can be evidenced by the diversity of the Coolture customer.
INDYCAR drivers, Graham Rahal and Josef Newgarden, are two of many drivers pre-cooling with Coolture to stall the point at which their body heats up, then recovery cooling to regain post-race strength. The snug-fit provides a comfortable, long-lasting cooling solution for athletes; particularly senior golfers, who are proven the most vulnerable to heat injury.
Luanne DiBernardo, Coolture's Vice President of Marketing and Sales, and sibling of designer Van DiBernardo, recalls the industrial styled cooling vest her brother wore to help him manage the side effects of MS one summer.
"It took only one summer of watching Van struggle with that cumbersome wet vest to realize that he wasn't alone; the needs of significant populations struggling to manage heated environments were being overlooked. You don't have to be a DKNY designer to want quality," DiBernardo emphasizes. "A cooling vest that works equally well for athletics, recreations, wellness, and lifestyle – who better to introduce that solution than Van."
The garment's broad appeal can be attributed to its patented construction and performance fabrics. Every fabric in the Coolture cooling vest performs a job: premium athletic fabrics provide a durable and attractive exterior; high tech "space age" technology stores body heat and provides a long-lasting cooling benefit. The Coolture patented belt construction distributes the weight of the phase-change CoolPaks, thereby eliminating the burden of weight commonly associated with competitor gel and ice loaded cooling vests.
Because 75% of the body's total energy goes into regulating heat, science shows that reducing core temperature before an exertional activity leaves more energy for the activity itself -- even if that activity is getting from Point A to Point B. The cool news is that heat injury is completely preventable.
About Coolture LLC: Coolture is a Made in the USA apparel company focused on lifestyle cooling products that improve quality of life for the compromised as well as the capable. Dr. Thomas Stewart, the President and CEO of Coolture, holds 5 patents in temperature regulating devices for medical environments, and is the former President and CEO of Gaymar Industries, a global medical device company. Coolture's cooling vest has been scientifically proven to outperform competitor vests, while also improving athletic performance and preventing heat injury. Coolture sponsors MS and community related events, and provides jobs to minority and disabled workers. To learn more about the Coolture team and product, visit http://www.coolture.net.