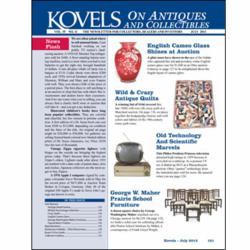 Cleveland, OH (PRWEB) June 25, 2013
The July 2013 "Kovels on Antiques and Collectibles" newsletter is now available in print and online.
Kovels' July issue features a sale report on a comprehensive collection of scientific instruments and technological devices that auctioned in Massachusetts. More that 2,000 items from the industrial past were offered. Kovels' newsletter pictures a sampling, ranging in price from a $60 check-printing machine to a $25,200 axial engine. Cameo glass sells well today and some of the best pieces were made in England. English cameo glass sold for high prices at a spring Ohio auction, where a cameo glass plaque by English glass artist George Woodall sold for $29,900 and a cobalt blue cameo glass vase decorated with latticework and medallions sold for over $18,000. Quilters went crazy for crazy quilts that sold for affordable prices at a Maryland auction, where a quilt made of patterned neckties supposedly worn by "famous people" sold for $431. Crazy quilts are made in a patternless hodgepodge of colors and fabrics. See pictures and prices of others in Kovels' July newsletter.
Kovels also reports on vintage board games—Little Orphan Annie, Uncle Wiggily, and Monopoly among them—that auctioned in Michigan, as well as "hot" figural metal match holders that sold for high prices in Maryland. And learn about Chicago furniture designer George Washington Maher. He was a contemporary of Frank Lloyd Wright, but his Prairie School pieces are less expensive. See pictures and prices of some of his simple geometric chairs and tables in the July newsletter.
Kovels' column, New Uses for Old Stuff, shows how to repurpose sterling silver flatware. Other regular monthly features are here, too. The popular illustrated Collector's Gallery has answers to readers' questions about a milk strainer, a 19th-century circular slide rule, a pair of Cuban dolls in military uniform and wooden ABC blocks. July's Dictionary of Marks lists marks used by Ohio companies that made dinnerware. The Buyer's Price Guide has current prices of dozens of antiques and collectibles.
With its mixture of expert advice and reports on what's hot in the market, Kovels' newsletter has something to offer for both beginning and experienced collectors. "Kovels on Antiques and Collectibles" is available as a print subscription or as a digital downloadable version that is part of the Kovels.com Premium subscription.
Terry Kovel, well-known columnist and author, gives information and advice on collecting. She will discuss antiques and collectibles topics with accredited media. Photographs are available. Contact pr(at)kovels.com.
About Kovels.com
Kovels.com, created by Terry Kovel and Kim Kovel, provides collectors and researchers with up-to-date and accurate information on antiques and collectibles. Kovels' Antiques was founded in 1953 by Terry Kovel and her late husband, Ralph. Since then, Kovels' Antiques has continually published some of America's most popular books and articles about antiques, including the best-selling "Kovels' Antiques and Collectibles Price Guide," now in its 45th edition. The Kovels' website, online since 1998, and free weekly email, "Kovels Komments," give readers a bird's-eye view of the market through up-to-date news, auction reports, free online Price Guide, a Marks Dictionary, readers' questions with Kovels' answers and much more.
Contact Information:
Liz Lillis
216.752.2252
Pr(at)kovels(dot)com