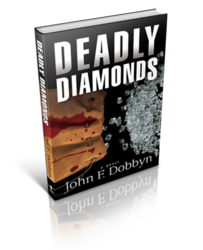 "A fantastic legal thriller that will keep you on the edge of your chair throughout."
—Bookpleasures
Longboat Key, Florida (PRWEB) June 27, 2013
An edge-of-your-seat thriller, Deadly Diamonds (ISBN: 978‐1‐60809-092-1, Thriller, Hardcover, $26.95) features protagonist team, Michael Knight and Lex Devlin.
Clash over "blood diamonds" puts Knight and Devlin in the gun sights of the Irish mafia, the IRA, the Italian mafia, and the rebel child-army of Sierra Leone.
What do Boston, Dublin, and Sierra Leone have in common? The movement of "blood diamonds" at enormous profit but grave human expense: mafia killings in Boston and Ireland and child enslavement and murder in Sierra Leone. And who is ensnared in the middle of all of this — Michael Knight and Lex Devlin. Can they stop the enormously profitable trade of these tainted jewels? They must come between the Italian mafia in North Boston and the Irish mafia in South Boston including some remnants of the IRA in Ireland. They must also pit themselves against the enslaved and deadly child-army in Sierra Leone, who smuggle these diamonds into the mainstream for cash to buy weapons and drugs. At great personal risk, Knight and Devlin struggle to find a solution that satisfies this disparate combination of characters and, hopefully, dampens the diamond flow.
Praise for John F. Dobbyn and his Knight-Devlin thriller series:
"Knight has a sharp wit and a gift of gab that he uses to exploit the enmity between and within the rival gangs…it's difficult to believe that anything terrible could happen to a clever lad flashing so much good old Irish blarney."
—Publishers Weekly
"...the Boston setting; a self-effacing hero with more nerve than muscle; carefully drawn, three-dimensional secondary characters; and the way the seemingly simple plot mushrooms into full-blown chaos. A very entertaining entry in what one hopes will be a long-running series."
—Booklist
"A fantastic legal thriller that will keep you on the edge of your chair throughout."
—Bookpleasures
"This quick and intricate legal thriller will keep readers in suspense and wanting more."
—Fresh Fiction
"Dobbyn is a talented writer, and this novel boasts both subtle characterizations and a first-rate story."
Booklist
Deadly Diamonds will be available nationwide on September 3, 2013 through public libraries, and fine booksellers everywhere.