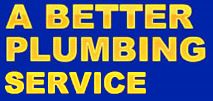 Conyers, Ga (PRWEB) June 26, 2013
The American Business Women's Association(ABWA) is a dedicated group of both men and women compelled by their mission to support women who wish to gain knowledge and opportunities within the workforce and political landscape by providing training, education, networking and fundraising to help improve local communities and support their mission's goals.
Rick Ingram, founder of the 27 year old Atlanta-based company A Better Plumbing Service, has recently been elected President of his local ABWA; a privilege that has only ever been handed down to one other male throughout the organization's history, and one that Mr. Ingram has felt proud to accept.
He believes that being elected into a leadership position of ABWA tells great things about gender equality in America, considering his comment below:
"For years and years, its always been opposite - women have fought to move up in the working world. Now they've been established and aren't afraid to give opportunity to their male counterparts to reach out and assist in their goals."
Rick has gained a reputation of being a friendly and honest Atlanta plumbing service, one that has been exemplified by their brand name. They believe strongly in the golden rule and Mr. Ingram says their reputation of providing top-class customer service is very important in what they do. When asked why he believed he was elected to the position of President, he responded with:
"I'm involved in my community and people look up to me for advice. I'm very honest and dependable, if anyone calls me I'll be there to help".
Though the members of ABWA's faith in Mr. Ingram's ability to lead them as President doesn't rest solely on his goodwill to the community and confident attitude. A Better Plumbing Service is a family-owned and operated business - with deep roots in the plumbing trade that reach back five generations all the way into 1905 where his great grandfather started as a plumber right in Atlanta, Georgia.
You can rest assured that Mr. Ingram is certain that his experience in the plumbing industry will help his position as President. Mr. Ingram states, "I've been in a leadership position with employees under me nearly all my life. I'm good at working with people, and I'm a very patient person.", and Rick had also stated "My family has helped in writing the Georgia handbook on plumbing regulations and one of my grandfather's brothers had the first ever licensed plumbing card in Georgia."
As head of the Atlanta chapter, he'll be responsible for meetings, fundraising and being active throughout the Atlanta counsel to swap ideas and business opportunities to help women grow personally and professionally through different leaders and connections.
He intends to provide education of small business owning women with informative guest speakers and events such as the Atlanta group's "Tea Party" where members are invited to wear top hats and other unique headwear. By consistently being so involved in the community and providing such activities and raising awareness, the Atlanta chapter has gained national attention from ABWA for their membership drives.
The newly elected President encourages that the general public and average Jane's and Joe's can support the group's goals by getting a membership, spreading the word and taking part in the activities.
For more helpful information on Rick Ingram's personal business, visit his website at http://abetterplumbingservice.com.
To take part in the American Business Women's Association, visit the Atlanta chapter's website and become a member or take part in the activities by following this link: http://www.aacabwa.org.
This release was submitted by Click Ready Marketing an Atlanta, GA and Chattanooga, TN based SEO Company.