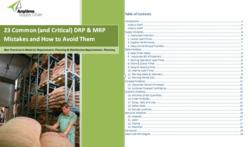 "Some mistakes can't be avoided but some can be; this white paper was written to help supply chain management professionals make the best decisions to minimize costs while meeting or exceeding customer expectations."
Chardon, Ohio (PRWEB) June 25, 2013
e2b teknologies, developers of Anytime Supply Chain, supply chain management software, recently releases, "23 Common (and Critical) DRP & MRP Mistakes and How to Avoid Them," a white paper outlining supply chain management best practices around demand forecasting (DRP) and material planning (MRP) for distribution and manufacturing supply chains.
"Distributors and manufacturers have a very hard job balancing supply and demand. There are so many inputs into the logic that companies frequently make mistakes when determining what they need to buy (or make), when, and how much." Says James Mallory, author of the white paper, "Some mistakes can't be avoided but some can be; this white paper was written to help supply chain management professionals make the best decisions to minimize costs while meeting or exceeding customer expectations."
The white paper goes into a detailed explanation of what demand forecasting and material planning are and analyzes 23 common errors made in supply chains. The mistakes discussed include supply mistakes, date mistakes, forecast mistakes, quantity mistakes, and resource mistakes. Each error is explained thoroughly, examples are used to illustrate the problem, and supply chain management best practices are provided on how to avoid these mistakes in the future.
Downnload the whitepaper here at no cost.
About e2b teknologies:
e2b teknologies (e2btek.com) provides cloud-based business software applications and business services to progressive businesses worldwide. e2b anytime apps (e2banytime.com) is the publisher of Anytime Supply Chain, Anytime Commerce, Anytime Collect, and related Anytime brand products. e2b enterprise (e2benterprise.com) develops custom cloud-based business applications and resells leading ERP accounting software, CRM, HRMS, and other enterprise business software applications from Sage Software, Epicor, Intacct, SugarCRM, and other publishers. e2b calibration (e2bcal.com) is an ISO/IEC 17025 accredited calibration laboratory.
Follow us on twitter @e2bteknologies