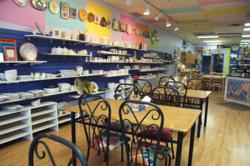 A unique and fun party location.
(PRWEB) June 26, 2013
If there is a special event coming up to celebrate with family or friends, Creative Escape offers a unique option.
Whether the party is for a birthday, bachelorette party, ladies night out, work team building, family time or even a sports team party adding a creative spin can make the gathering very rememberable.
Using Creative Escape party options is a great way to share time together and create a unique piece that can be a party favor or it could be given as a great gift.
Creative Escape, located at 1366 South Rangeline Road in Carmel, Indiana, gives a party location for the artist or artist at heart.
Owners Bob and Diane Rahke first became interested in the pottery art while on vacation with their family in California. They spotted a place that offered pottery painting and saw it as a great family activity.
After 20 years of children's ministry, the Hamilton County natives decided to rekindle the pottery experience and share the fun with others.
In a time when art is being cut from some school systems, Diane's passion is to have everyone come in and have a really great art experience. The experience is enhanced with great music, lots of colors, less chaos and it is simply therapeutic.
There are several party themes to choose from: pottery painting, silver jewelry, mosaics, glass painting, glass fusing or potter wheel.
Depending on the art selected, some pieces can be taken from the party and other pieces that require being fired can be picked up a week after the party.
It is also very easy to schedule a party, just call for reservations. The party can range from 1.5-3 hours depending on the art selected. Creative Escape will provide a staff person to help everyone through the process of the art chosen and there is no studio fees during business hours.
The party theme will give everyone the chance to create a unique gift or a special piece to take home with them that is useful, personalized, expresses ones individual creativity and a one of a kind piece of art.
These custom items can also be used as a gift to say thank you to a teacher or coach, as a wedding gift, shower gift, an auction to support a favorite charity, retirement gift, holiday gift or even for home decor murals or tiles. All while having fun with friends and family.
Diane shares that one of the amazing things about being creative is that it changes the mood of people. If someone comes in a little grumpy or unhappy they always leave Creative Escape with a smile and a creative masterpiece.
Creative Escape will also create be able to create customized pieces for those who claim to be creatively challenged.
To make sure the next party stands out in everyone's memories and be the one that is talked about all year, while letting all the party goers the chance to take home a creative piece give Creative Escape a call for your reservations, (317)569-8626.