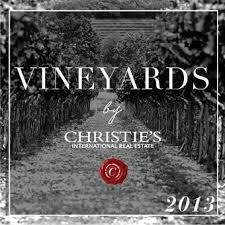 Naples, FL (PRWEB) June 25, 2013
Finding the vineyard property of dreams and the wines a person loves can now become a reality. "We are very excited that we can provide this elite service to our clients, especially our clients here in Naples. It is apparent that there is a need for this service, as Naples is known as a top destination for wine enthusiasts. In fact, the Luxury Institute ranks the Naples Winter Wine Festival among the top 10 arts and entertainment events for the wealthy. We do hope that the wine aficionados in Naples and those planning to attend the Naples Winter Wine Festival 2014 will allow Naples Estate Properties the opportunity to discuss our premier vineyard acquisition advisory service, Vineyards by Christie's International Real Estate, " states Gerard Liguori, Broker/Owner, of Premier Estate Properties.
Vineyards by Christie's International Real Estate -- a new innovative vineyard acquisition advisory service -- provides clients a unique combination of expert counsel from both a Christie's wine specialist and a Christie's real estate specialist. In addition to working with at least two Christie's specialists, this unique consulting program provides private translation services, as well as custom travel arrangements.
"It is essential that buyers work with experts who know the industry, operate in the local market, are well connected with local vineyard owners, and are immersed in a region's wine industry network," says vineyard property specialist Michael Baynes of Christies International Real Estate Affiliate Maxwell-Storrie Baynes in Bordeaux. "Vineyard markets in sought-after locations are often small and discrete, and without expert guidance, buyers never even know they are on the market. It is not uncommon for more than half of our vineyards to be privately listed – never advertised, and never placed on websites."
Naples Estate Properties, exclusive affiliate of Christie's, is proud of Vineyards by Christie's International Real Estate, the first global advisory service for buyers of internationally sought after vineyards and estates.
For further information on Naples Estate Properties' real estate services, please call 239.262.0022 or visit Naples Estate Properties' Corporate Office, 296 14th Avenue South, Pettit Square, Naples or on the Internet at http://www.naplesestateproperties.com.