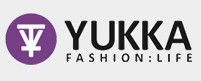 Since our customers tend to target the latest and most cutting-edge street fashion, they will certainly be keen to see our newly arrived and discounted Ecko stock
(PRWEB UK) 25 June 2013
Over the past ten years, Yukka has built a strong name for itself as one of the UK's leading retailers of cutting-edge streetwear. Not only do they carry an extensive range of established as well as up-and-coming brands of the highest underground pedigree, Yukka holds exclusive UK rights to sell world-famous Ecko Unltd clothing.
Always the 'place-to-go' for the latest in urban fashion at affordable prices, pundits will want to visit Yukka's website to get their hands on fresh stock from Ecko that no other retailer in Britain is able to offer.
With their current headquarters in Manhattan, New York, Ecko Unltd has grown from humble beginnings to achieve major brand success and global revenue that runs into the billions. It was founded by Marc Ecko, a graffiti artist who even as a teenager in school airbrushed his creative designs onto clothing and began making a name for himself.
The company 'Marc Ecko Enterprises' has now expanded to a number of clothing lines, but they arguably remain best known and respected for their original hip hop collections which capture the urban lifestyle ethos to perfection.
Founded in 1993, Ecko Unltd's initial primary claim to fame was t-shirts featuring the inspired underground graffiti art that Marc created. The brand now offers a range that will leave discerning urban clothing shoppers spoilt for choice - spanning tees, shirts, vests, jackets, shorts, sweat pants, jeans, bags and caps. From ultra-edgy hip hop styles to Star Wars chic, Ecko is firmly established in the prestigious arena of the world's hottest, most stellar streetwear brands.
In an interview with uk.askmen.com, Marc was asked to describe the type of man that would wear Ecko clothing. He answered: "I think he is eclectic, diverse, irreverent, creative."
When describing his fashion ethics and inspiration for the Ecko Unltd label, Marc's comments reveal his appreciation of urban lifestyle clothing: "I always feel style should be from the inside out. It should be self-motivated… I don't care about high-end labels or status symbols. You can tell who can pull something off by the way they carry themselves."
As the exclusive UK retailer of the Ecko Unltd brand, Yukka is proud to announce a fresh range of new and discounted stock. What's more, their website makes it easy for shoppers to find the perfect steal with a personal avatar on hand to answer any questions plus convenient tick box search categories such as department (men, women or unisex), size, type of clothing, style (urban or street), colour, price and even fit (baggy, loose or regular).
New stock includes men's hoodies, t-shirts, sweat pants, and denim jeans. Examples of freshly discounted items span some of the Star Wars range plus a host of other tees, stylish shirts, shorts and more – all selling at an appealing 15% discount. Additionally, a selected collection of men and women's Ecko bags are currently retailing with a brilliant 30% discount.
Founder of urban clothing specialist Yukka, Robby Sur, commented on their latest offering: "We're extremely pleased to be the exclusive UK retailer of such a respected streetwear label at Ecko. Since our customers tend to target the latest and most cutting-edge street fashion, they will certainly be keen to see our newly arrived and discounted Ecko stock."