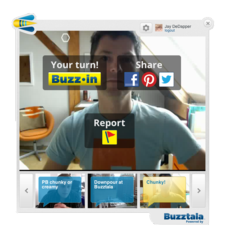 Buzztala helps retailers and brands leverage user-created video to increase sales conversion, accelerate lead generation and deepen engagement.
New York, NY (PRWEB) June 26, 2013
Today Buzztala, a brand-safe, customizable platform enabling companies to instantly tap into the power of user-created social content by adding customer-generated video reviews and testimonials to their websites, unveiled a general release of its Buzztala 1.0 platform.
Buzztala's patent pending technology allows brands to access end-users' mobile cameras through the browser, so consumers can watch and interact with video content while mobile – while cutting down on the friction associated with downloading an app before engagement can occur.
"Buzztala addresses the two biggest opportunities CMOs face today: earned media via social networks is significantly driving down customer acquisition costs, and online shoppers are increasingly accessing content via mobile devices. Our platform lets mobile shoppers easily create video content for brands, without the need to type on small devices, and then seamlessly share it throughout their personalized social graphs," said Jay DeDapper, chief executive officer, Buzztala. "As a result, Buzztala helps retailers and brands quickly and affordably leverage user-generated video to increase sales conversions, accelerate lead generation and create deeper engagement with customers."
The company spent the past few months beta testing with several leading ecommerce and large brands, including Live Nation Ticketmaster. DeDapper continued, "Live Nation has told us they're excited about the possibilities of using Buzztala to create amazing engagement between music stars and their fans."
Buzztala 1.0 delivers several new capabilities that evolved from beta testing, including:

Access to end-users' mobile cameras through the browser without needing to download an app
A customizable mobile widget and white-label app
The ability to share user-generated content across Pinterest, in addition to Facebook and Twitter
Compatible and easy-to-use with Facebook Mobile app
Ability to work with all browsers and operating systems
Enhanced customization and analytics, including word-of-mouth tracking on social graphs
The Consumer Experience
The consumer experience is simple. After clicking a call-to-action button from a laptop, smartphone or tablet, users view the available video content and have the option to record their own – all while on the brand's site. Content is then shared across users' and brands' social graphs following approval by the respective brand.
Buzztala 1.0 can be used for:

Watching or creating consumer and/or branded video product reviews, testimonials, demonstrations and more
Enabling social promotions like video contests, quizzes, and interactive Q&As
Rewarding customers for in store and/or aisle check-ins and reviews
Behind The Scenes
Buzztala is brand-safe – clients use intuitive moderation panels to tag, screen and approve content before it is pushed live. Tagging helps drive SEO and organic search results as videos naturally filter to the top of search engine rankings. As an add-on service, clients can work with Buzztala to manage the moderation and posting process.
The platform also offers immediate access to analytics and data regarding reach, conversion rates and demographic information – right out of the box. Brands also have the ability to integrate Buzztala into a sales database and receive lead generation tracking.
Clients can personalize the Buzztala 1.0 platform as much or as little as they like, which can be installed in less then a minute at the basic level of customization. Using a patent-pending combination of HTML5 and Flash technologies, Buzztala 1.0 is optimized for computers, tablets and smartphones – delivering a rich visual experience no matter how users enter a brand's site.
For a company looking to own space on smartphones and tablets, Buzztala also offers a white-label mobile app. Buzztala is currently offering a free 90-day trial demo at http://www.buzztala.com/buzztala-demo/.
About Buzztala
Buzztala is a leading provider of mobile marketing and social video software for top brands. From a drop-dead simple setup and word-of-mouth social distribution, to comprehensive analytics, Buzztala was designed to enable any brand, small or large, to leverage the power of user-generated video for its audience. Based in New York, and founded in 2012, the Buzztala team has a deep understanding of building enterprise-grade products for top brands in video, social commerce, advertising and analytics. For more information and to sign up for a free account please visit buzztala.com.
CONTACT:
Liz Cahill
SR Communications
323-627-7878
liz(at)signalrockcomm(dot)com